This article was first published on CLUAS in Jan 2006
French Letter: Gainsbourg & Hallyday
Johnny Hallyday & Serge Gainsbourg back in the news? Aidan's on the case...
Aidan Curran, a CLUAS writer since 2004, is now based in Paris from where he files the 'French Letter' column

Two of France's biggest rock icons are experiencing contrasting fortunes at the moment.

Johnny Hallyday, that glorified Elvis impersonator you may have seen in your French schoolbooks, is suffering a sustained public backlash from even his most dedicated fans.

You see, France's number one rock star wants to become a Belgian.

The news of his citizenship application has caused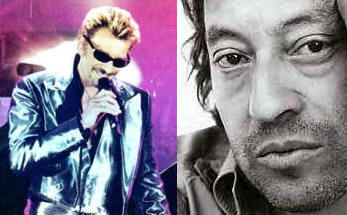 ructions here. Despite his family ties to Belgium (his father was Belgian), most commentators have pointed to its more generous tax system, noted Hallyday's lucrative new record deal, and have (like Johnny's accountant, no doubt) put two and two together.

The French media, sensing weakness, are tirelessly probing his private life, especially rape allegations which were recently thrown out of court. Meanwhile, his PR team is relentlessly pushing his family - especially recently-adopted Asian baby daughter - into the spotlight in a mad scramble for positive publicity. His die-hard fans are simply upset that their idol, the self-styled rocker-of-the-people they made into a star, is upping sticks to a country traditionally the butt of French jokes. Tough times indeed for poor old Johnny.

The late Serge Gainsbourg, by contrast, is about to enjoy renewed exposure and acclaim in the English-speaking pop world with the release on 27 February of 'Monsieur Gainsbourg Revisited', a tribute album to mark the 15th anniversary of the death of a true French pop/rock genius. A star-studded, eclectic and ultra-hip line-up includes Franz Ferdinand, Portishead, Michael Stipe, Tricky, Jarvis Cocker and Marianne Faithfull, all singing English-language versions of his songs. With such marquee names on board, the project is sure to generate huge interest in the man and his work.

A cross between Sean Connery and Shane McGowan, Gainsbourg combined arrogant sophistication, artistic sensitivity and boorish decadence. During his creative peak in the late '60s his singles rivalled Lennon & McCartney and Bacharach & David for innovation and ambition. Enthralled by Latino rhythms, American pop culture and British aristocratic sang-froid, his work is nonetheless unmistakeably French, fun and fantastic.
Serge Gainsbourg - essential listening...
'Comic Strip' (compilation, 1996)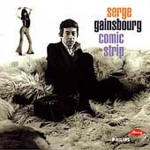 The best of his recordings from 1966 to 1969 - 20 electrifying tracks whose legacy (crafted arrangements, tense mood swings, playful eclecticism) can be heard in The Divine Comedy, Beck, Radiohead, Massive Attack, Tindersticks and others. Recorded in Swinging London, drenched in symphonic strings and sexual innuendo, sampled and imitated ever since - unquestionably one of the most influential bodies of work in modern music.

Standout tracks: The opening three songs - the edgy 'Requiem Pour Un Con', the thrilling 'Bonnie and Clyde', the soaring 'Initials B.B.' - are absolutely flawless. Even 'Je T'Aime (Moi Non Plus)' - the most notorious banned single ever - sounds great, with Jane Birkin sounding heartbroken one minute and then the next minute a little, em, happier.... (Get a new or second hand copy of this album on Amazon)
'L'Histoire de Melody Nelson' (1971)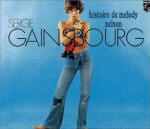 His greatest album - a melancholic yet sexy mix of soulful basslines, lush orchestrations and more sound effects from Ms Birkin. Need we say that it's about a middle-aged man's affair with an underage English girl? Dodgy concept, brilliant record.

Standout track: 'Ballade de Melody Nelson', with its unforgettable descending bass intro. (Get a new or second hand copy of this album on Amazon)
'Love On The Beat' (1984)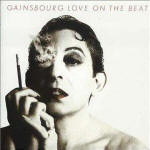 Okay, admittedly this isn't classic Gainsbourg (or even classic anybody else) but as '80s synth-rock is probably going to come back into fashion later this year, why not start here? This New York-recorded album is famous for its iconic cover photograph by William Klein (currently the subject of a retrospective at the Centre Pompidou in Paris).

Standout track: Gainsbourg's infamous 'Lemon Incest' duet with his own daughter Charlotte (currently recording an album with Air) - although the most shocking thing is her tuneless singing. (Get a new or second hand copy of this album on Amazon)

'Aux Armes Et Cetera' (1979)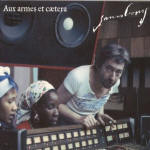 Gainsbourg's reggae album, recorded in Kingston with Sly & Robbie as producers and Jamaican backing vocalists singing French lyrics. It sounds like a bad idea, but in fact it works fantastically with Gainsbourg's drawling voice and sleazy persona.

Standout track: The title track is actually 'La Marseillaise' (the French national anthem) done reggae style - it provoked venomous outrage in France on the scale of 'God Save The Queen' in Britain? or that Brian McFadden video in Ireland. (Get a new or second hand copy of this album on Amazon)
Johnny Hallyday - essential listening...
You must be joking.