Tindersticks
A review of the album 'Can Our Love'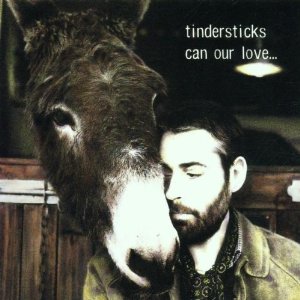 After the shock of their 1999 long-player 'Can We Start Again' receiving mainstream daytime airplay, press darling anti-heroes, The Tindersticks haughtily retreat back to maudlinsville on "Can Our Love".
This, their fourth studio album show Staples and Co. emancipating themselves from the shackles of the one-dimensional label of miserablists, which trailed the band in the past. This work is essentially a grass roots-sounding album in natural Tindersticks mode.
Previously, they had chained themselves to the image of bastard children of Nick Cave and Leonard Cohen and starting off with "Dying Slowly" (heavily hinting at vintage Stuart Staples - "this dying slowly / seemed better than shooting myself"), one could be forgiven for presuming that this crutch was suitably worn.
But it is title-track "Can Our Love", which captures the entire mood of the album with its early Motown blues guitars, 12 bar bass and Scott Walker-style lyrical melancholia. It acts as the evolutionary missing link between the early and latter day forms of the band.
Ultimately "Can Our Love" is a marriage of the lachrymose of early Tindersticks fused with the soul/blues motifs of their latter form. The Tindersticks is never going to be band that reinvents its sound every time its members decide to gather around the mixing desk.
There is, however, scope and enough musical ability to be rest assured that there will always be something to look forward to when you hear them on record or live.
Colm Downes