Franz Ferdinand
Ambassador, Dublin, 16 April 2004
Big things are expected from this indie Scottish band so it was no surprise that when this gig, originally meant for The Village, was transferred to a bigger venue. Three of their singles from their self-titled debut album have all reached the top twenty. This success brings with it hype and expectation. And so the crowd became weary as support act The Fiery Furnaces failed to entertain and looked very discordant on stage.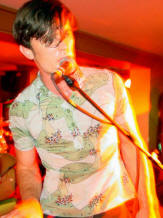 Coming direct from RTE studios after performing on The Late Late Show, the lads finally appeared on stage a bit later than expected. It was worth the wait though. While renditions of 'Michael', 'Darts Of Pleasure' and 'Cheating On You' excited the crowd, it wasn't until hit single 'Take Me Out' before the crowd really came alive and offered their backing vocals for the chorus.

Lead singer Alexander Kapranos, dressed in 70s apparel, had the audience in his grasp. His distinctive vocals and laid-back persona placed him at the centre of attention, the crowd eyeing his every move and singing along with his every word.

With a burst of energy a superb version of 'Matinee' was delivered. This was followed by 'This Fire', 'Tell Her Tonight' and 'Jacqueline' - all performed with equal amount of enthusiasm.

At the start of the night, the band seemed to be a bit flamboyant, maybe a bit too much. But by the second song the crowd were swaying with Kapranos & Co.

In the end it was a short set - just under an hour - but nonetheless it was lively and extremely entertaining.

Gareth Maher

Franz Ferdinand next hit Irish shores playing at the Oxegen festival in July.


Feel free to discuss this review on our Indie Music Discussion board.