Paul McCartney
A review of his concert in the RDS, Dublin, May 27th, 2003
Just like 7th November 1963, May 27th 2003 is a date that will be forever etched in the minds of Irish Beatles fans. For me it certainly wasn't just 'Another Day' as I got the opportunity to spend the day backstage, watch the soundcheck, meet all the band members, including Paul and then watch his first Dublin performance in 40 years.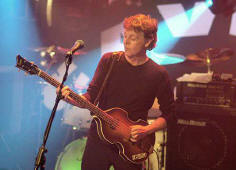 At 8:06pm the giant screens displayed a silhouette of Paul's Hofner Bass, and seconds later a silhouette of the man himself holding his prized Hofner above his head. The screen went up, the crowd went wild and 'Hello Goodbye' and 'Jet' got the crowd roaring.
"Hello Dublin, we have come to rock you tonight" Paul opened with, before rocking us with 'All My Loving'. "This next song is a song from the 60s but it hasn't been heard since, until this tour" introduced us to 'Getting Better'. Almost on cue the rain began to fall provoking me to start singing 'getting wetter', but I don't think Macca will let me put my surname before his on the writing credits of this one.
After 'Let Me Roll It' (which was played to perfection) Paul commented "all the songs you've heard up to now are old ones, but this next one is a track from my latest album" before perfroming 'Lonely Road'. 'Your Loving Flame' was then deciated "to someone out there in the audience, my lovely wife Heather".
"Now this is the part of the show where the rest of the band leave me alone with you". So started a 30-minute solo set of classics including 'Blackbird', 'Everynight', and 'We Can Work It Out'. For 'You Never Give Me Your Money' / 'Carry That Weight' he forgot the lyrics and bluffed it (just like he does on the live album).
Then he told us a great story about a massage he had while touring in New Orleans. "One of the great things about touring is that you get to stay in loads of different hotels, and when you're there you can have a massage. So I asked for one, and this big guy comes up to my room and asks me to sit upright on the table. Now he says to stare into his eyes and try and burn a hole in his eyes with my eyes. It's a massage I wanted, not a deep relationship, and I keep telling that story everywhere I go, in the hope that it'll get back to him and he'll stop doing it".
"Then another time when I was in Tokyo (the very mention of Tokyo gets the crowd jeering), no not that time, but another time. This lady came to my room and asked me to lie down, and as she started to massage my arms she started singing 'yesterday, all my troubles???' thank god she didn't know the middle eight, and they are both true stories" he joked. Back to the music and he explained "that we all mean to say things to friends, but somehow we never get the chance. They die, and you think, if only I'd have said this before". He then dedicates 'Here Today' to John and after it brought out a ukulele that George gave him. He talked about "George being a great ukelele player and that anytime you'd go around to George's House, the ukelele's would come out" before playing a beautiful version of 'Something' on - of course - the ukulele.
At the end of the song we all shouted 'What About Ringo' - to which Paul replied "There's always someone who shouts what about Ringo, and I told Ringo this and he's delighted". Paul then conducted the crowd through a verse of 'Yellow submarine'.
By now the band had now returned onto the stage and treated us to a trio of Beatle classics - 'Eleanor Rigby', 'Here, There and Everywhere', and 'I've Just Seen A Face'. Keyboardist Wix came to the fore with his accordion for a beautiful rendition of 'Calico Skies', and 'Two of Us' encouraged a huge sing-a-long from the 30,000 crowd.
Paul then spoke about "when I was younger I learnt French as I reckoned it was a good way to pull the birds. We also wore black polo necks" (to which the crowd roared). "Now this is ridiculous" he said, "a piece of clothing getting a round of applause. Okay, how about polka dot boxer shorts" he adds, which brings even bigger screams. This leads us into 'Michelle' which comes with a backdrop of night time Paris and an illuminated Eiffel Tower.
'Band On The Run' is fantastic. He starts with the slow version (the version he recorded for BBC Radio) and then kicks full blast into the song proper. At the end of 'Back In The U.S.S.R.' he adds "we just played that song a few days ago in Red Square and you can imagine how well that went down".
He then introduced Rusty, who took out a camera and wanted to capture the moment by taking a picture of the crowd ("can you all just squeeze in a little bit more") . Paul took the opportunity to move to the piano for 'Maybe I'm Amazed' and 'Let Em In'. "I wrote this next song for Linda, and I dedicate it to all the lovers, keep on loving" he announced before performing My Love (with Rusty stepping in as an adequate substitute for Henry McCullough).
Then he introduced Wix, who said "tr?hn?a" and he put on a giant Guinness Hat. He then produced a pint of Guinness from behind the keyboard all of which was fully approved by the crowd. 'She's Leaving Home' followed (another song from the 60s that hadn't been performed until this tour).
'Can't Buy Me Love' had the place rocking again as beatlemania images were displayed on all the screens and had the whole place in a frenzy. "This is a song for anyone celebrating a birthday" said Paul before performing the aforementioned, after which he introduce Brian. 'Live And Let Die' blew the ears off us with its pyrotechnics and flashing image spectacular on the giant video screens.
The crowd were calmed down for 'Let It Be', which brought out all the cigarette lighters, and then he told the audience "I'll need your help with the end of this next song" before sitting at the piano to sing 'Hey Jude'.
Once the audience participation had begun, he walked to the front of the stage and asked "for all the girls to sing it". Then he asked "for all the guys" and continued playing the song for nearly ten minutes before he said goodbye and all the band left the stage.
With the crowd shouting for more Paul returned on stage waving an Irish flag to which the fans reacted with a chorus of 'Ole-Ole-Ole'. He sat at the piano for 'The Long and Winding Road' before some of his crew again carried out his psychedelic piano for him to perform 'Lady Madonna' to absolute perfection (this was the actual piano that this song was originally recorded on).
"You want to keep rocking?" he asked. The crowd roared, so he brought us back 40 years for 'I Saw Her Standing There'. At the end of which he threw his Hofner Bass to John Hammel (his personal assistant), who managed to grasp it just before it would have hit the ground. The whole band started to do crazy little monkey imitations before bowing and thanking the audience once more, and waking off stage again.
Back Paul came immediately with an acoustic guitar and you could have heard the proverbial pin drop as he sang 'Yesterday' to a silenced RDS, the end of which which was greeted with a standing ovation.
He beckoned the rest of the band back on stage and as his fans shouted for more, he said "there comes a time when we've got to go home?and more importantly you've got to go home" (a comment which the crowd disagreed with).
He concluded with 'Sgt Pepper's' and 'The End' and as he threw a plectrum into the crowd he said in Irish "Sl? Abhaile, see ya next time", and then left the stage for the final time.
This time it was really over. And I was no longer jealous of anyone who'd seen him play the Adelphi 40 years previously.

Mick Lynch