Beth Gibbons & Rustin Man
A review of their album 'Out of Season'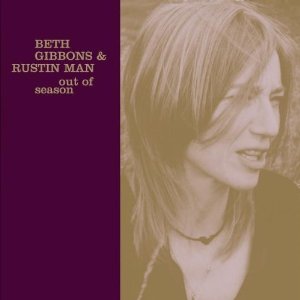 Described as a one-off collaboration, the most evocative female voice of the nineties, Beth Gibbons, has joined forces with former Talk Talk bassist Paul Webb, now trading under the guise of Rustin Man. With Portishead, Gibbons had played a vital role in the conception of two of the decade's most astounding musical artefacts. Five years have now passed since the release of "Portishead", and gaps like these are never normally perceived as being creatively beneficial.
However, Gibbons never really conformed to the norms. Beth never really gave a damn about record sales, PR or public perception, and she usually stayed out of the limelight. In fact not much has been heard of her in the last five years, with this record just creeping up on us, seemingly out of nowhere. Any fears that her extended sojourn from music has drained her creative juices are immediately quashed with the remarkable opener "Mysteries". The most remarkable thing about this track, and indeed the album itself, is the changes in Gibbons' voice. Imagine if Joni Mitchell had teamed up with some British folkies like Nick Drake and John Martyn in the early seventies. This is what "Mysteries" sounds like. Gibbons' voice is stripped down, as is the understated production of Webb, which is dominated by quiet acoustic and outdoor sounds.
Not only does this record sound fundamentally different to Portishead, but it also seems that Gibbons is using "Out Of Season" as a testing ground for her voice (she is supposedly working on new Portishead material with Geoff Barrow). Indeed, her vocal remains the most important instrument throughout the record. "Tom The Model" sees her adopt a more soulful voice while tracks like "Romance" and "Drake" see her sound closer to two of the finest singers of all time: Billie Holiday and Nina Simone. Her vocal on "Show" is husky, possibly the closest to her Portishead "sound". It was as if this track was recorded in a late night jazz bar sometime after midnight with just a piano, before Joe Boyd (Drake's Producer) popped in and decided to add some cellos at the end of it, with Alison Goldfrapp on backing vocals! Simply sublime. Like many of the album's songs, it takes the best facets of genres and mixes them together rather magically. The most wonderful embodiment of this is in the album's highlight "Funny Time of Year". It starts quietly, with yet again an acoustic dominated sound. However, as Beth's voice changes in the song, so does the music. It shifts from folk to jazz, combining elements of electronic furriness on the way. "Out Of Season" leaves us the way it came in, with the slow-burning "Rustin Man".
Each listen of "Out Of Season" rewards the listener, with hidden subtleties and charms emerging. The three female backing vocalists alone deserve a medal, as they consistently sound wonderful, without intruding on Beth's "ground". It's as if they are the plectrum/bow to her strings - vital, yet inconspicuous. Webb does a wonderful job also, content to stay in the background. Portishead fans will be glad to see the involvement of Adrian Utley. However, it is Gibbons who shines throughout, instilling herself as one of the great female vocalists.
By the end of this breathtaking experience, we have an album that can be put in the same quality bracket as "Dummy" and "Portishead". "Out Of Season" may be a one-off, and it may not "fit" neatly into any category, but what we have is a late contender for Album of the Year.
Ciaran Ryan