Beck
The Point, Dublin, 25 August 2003
Monday 25th August, The Point Theatre, 9.30 pm. Beck Hansen has arrived on stage and he is probing around like an astronaut on a new planet. He's got one of those sonic devices, like Spock used on 'Star Trek'. He's probing us, testing us for life. Are these aliens ready for the Beck experience, he wonders?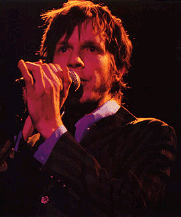 Yes, we are boldly going with Beck because even a courtesy listen to Beck's music over the past few albums reveals an artist of exceptional talent and versatility, making a Beck concert a must see.
He begins tonight with 'Novacane', then 'New Pollution'. Close your eyes and it could be Prince up there. It's funky and fresh. The band is hot. It's a good start.
Then a rapid change of pace. Beck is on his own, doing 'Guess I'm Doing Fine', from his 2002 album 'Sea Changes'. Another track from 'Sea Changes' follows: 'Lonesome Tears'. It's better than the album version with an improvised ending and a virtuoso performance from Beck's guitarist.
'Paper Tiger' follows, a song I didn't like before, but it sounds inspired here. Beck is in the groove now, slipping effortlessly from band to solo performance. A single spotlight illuminates a square musical box, which produces a sound not unlike an accordion. 'It's Nobody's Fault But My Own' and it's Beck at his melancholic best.
Three more songs from 'Sea Changes' follow, each one a testament to Mister Hansen's writing skills and rich vocal talents. We are then treated to an acoustic version of Flaming Lips sublime 'Do You Realise?' before the band comes back, 'Loser' is unleashed and the Point is now minus a roof.
It gets even better with Beck on full fun mode, with a mega-jam of Justin Timberlake, Nelly, Beyonce and Queen. There's even a choreographed dance routine in front of the stage with his guitarists. "Cool" bands are not supposed to do stuff like this. But Beck is beyond "cool", he's got more nuances and charisma than most bands put together. He's also a great showman and boy can he entertain. He finishes the set with another musical gear shift and another Beck classic: 'Where Its At'.
We take our breath and wait for the encore. From pitch darkness, 5 figures in illuminated white suits appear. 3,000 jaws drop wide open at once. The fluorescent funsters tear into 'Devil's Haircut'. Awe-some.
I've seen some shows this year, but for sheer audacity and entertainment, Beck beats them all.

Brian Kelly