REM
Lansdowne Road, Dublin (16 July '99)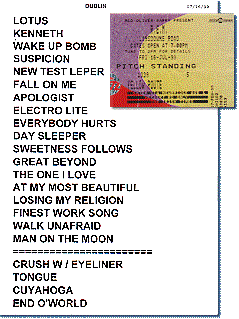 As I entered Lansdowne road last Friday evening I found myself reflecting on the fact that it should be REM of all people I was going to see. Such reflection was inspired by the chance encounter I had when I attended the second of the two shows U2 played in the same venue in August 1997. Others would remember it as the day that Princess Diana died but my memory will always associate it with a particularly successful execution of that subtle art known as 'gate-crashing'. What happened is that minutes before U2 hit the stage I somehow succeeded in spoofing my way into the VIP section in front of the sound-mixing desk. This had me instantaneously catapulted in to the immediate company of such darling icons of our time as Naomi Campbell, Elvis Costello and Helena Christiansen. Shying from their presence I quietly retired to the rear of the small VIP area and found a spot to stand beside a skinny, strangely self-conscious, thirty-something man. I didn't recognise who it was immediately, he being hidden under a one of those floppy hats much loved by the Britpop fraternity. Pretty soon though I realised it was no aging Britpopper but the old codger himself Mr. Michael Stipe of R.E.M. For the entire Popmart spectacle he remained at my left shoulder from where I was afforded the privileged opportunity of observing his idiosyncratic dancing method at close quarters.
Two years later I'm back in Lansdowne Road and so is Mr. Stipe. This time though I don't make it into the VIP area and instead join the heaving, sweating mass of humanity on the pitch. Stipe is also not in the VIP pound but is nonetheless on for doing his dance thing again. This time he's chosen to step it out on the stage in front of 42,000 or so (with his band as well it might be added, providing the appropriate moral and rhythmical support).
It all began at 8:30pm when, unannounced, REM hit the stage. Stipe, evidently pumped up and sporting purple eyeshadow, was soon covering every corner of the stage like a cheetah on Red Bull. Mike Mills - who one time looked more like a young Bill Gates than the musical fulcrum of one of the great rock bands - strolled on wearing an outrageous and extravagant sequined overcoat. It is warming to see his metamorphosis into indulgent rock star is progressing well, even if it is at a rather late stage of his career. Peter Buck was, well, uh, Peter Buck. What can you say? He, it seems, was just here to rock and focus on his guitar, leaving the bells and whistles of stadium performance to his colleagues.
They kick-started with Lotus from the new album 'Up'. It was clear straight away that neither complacency nor lethargy was on their agenda tonight. Following it with an urgent 'Kenneth (What's the Frequency)' and 'Wake up bomb' they concluded a brilliant opening hat trick that was perfect foil for the unfortunate brightness of the evening hour. The momentum however was briefly lost with 'Suspicion' and 'New test leper', tracks that lack the bite that a stadium audience crave.
The doubts had only started to plant themselves when they were majestically uprooted by a jaw-flipping 'Fall on me' from 1986's "Life's Rich Pageant". Now I was getting beautifully frightened - we're not even half an hour into their set and they had already pulled out of the bag a perfect moment to spin the sinusoidal fluid. Maybe all those outrageously excessive TicketMaster fees and charges were going to be worth it.
'Everybody Hurts' may have had its power diluted by blanket FM radio play but tonight the moving beauty of its core was resurrected. Hearing its melancholy and simple lyric revive with the lift of 40,000 voices was a moment that cannot be too easily forgotten. My bet is it will emerge from this decade as one of the few great folk songs to materialise from the mainstream music of our era. If such gravity wasn't enough it was shortly followed by "Sweetness follows", troubling and moving with its frank reflection on mortality. However it was also one of the weaker moments tonight, it being marred far too much bass coming through in the mix.
A new song performed - "Great beyond" - did not strike any obvious resonance to these ears. However, I present this as a positive observation, being familiar with the musical home truth that too often the quicker an appreciation of a song comes the quicker it also goes.
When they came to perform 'Losing my religion' (a contender for one of the nineties' greater singles anyone?) Stipe's voice was simply rendered redundant. Every single voice in every single corner belted every single word. There was the sense that the devotion was more to the song then the band, the song holding something greater than the sum of the band's parts.
The encores kicked off with Stipe strumming the simple but effective chords of the haunting "I'm not over you" from 'Up'. The band then raised the ante again with "Crush with Eyeliner" and a searing "Cuyahoga". It was all brought to a flourished finish with a fevered 6 minute "It's the end of the world as we know it (and I feel fine)". They had put the definitive seal on what will be the only stadium gig of worth Ireland will have this year. No great challenge you may contend when the only competition is Robbie or the Corrs. Maybe so, but when music that was created on your own terms is performed on your own terms something special is going to hang in the air. REM may be on the commercial decline, their best creative moments may have past but they, on the basis of just one night in Lansdowne road, are still infused with the spirit that made them great. They're not out of time yet.