This opinion article was first published on CLUAS in December 2004
CLUAS Opinion
Novelty, Sentimentality, Charity...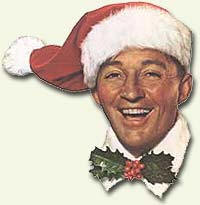 In the 5th CLUAS Opinion piece, Kierry decides it's time we went a bit seasonal and so takes us on a brief history of the Christmas charts...
---
Well, here it is, Christmas, the Silly Season. The time of year when people put aside their taste and dignity to cover their house in gaudy tinsel and annoying, flickering lights. It is a time when people feel those most beautiful human emotions: guilt, obligation and stress. A time when Mr. Blobby can outsell everything else to get to Number One and no, I'm not talking about Louis Walsh. I'm talking about novelty records, comedy songs, and simply terrible music. How can so many people spend their hard earned cash on crap that they will probably never listen to again? Maybe never even listen to at all? Band Aid 20, I'm looking at you. I think we're all aware that the public doesn't know what's good for them, just look at Pop Idol and other shows of that ilk. I mean, does anyone really sit down with a brandy and a "Cliff's Greatest Hits" compilation? Where did it all go wrong?

Well, it wasn't always this way. Ever since Al Martino had the first British Christmas Number One in 1952 with "Here In My heart" there have been some classic songs at the top on December 25th including four Beatles tunes, "I Want To Hold Your Hand", "I Feel Fine", "Day Tripper" and "Hello Goodbye" all made it to Number One. Everything was going fine until 1969, and a certain Mr. Rolf Harris. The first ever novelty record to hit the Christmas Number One "Two Little Boys" arrived, and brought with it the notion that to sell lots of records and make loads of money you didn't have to have a great song. The floodgates had opened, never to be closed. Shortly afterwards, in 1971, Benny Hill took the Number One at Christmas with "Ernie, The Fastest Milkman In The West". Other terrible songs like "Long Haired Lover From Liverpool" soon followed to occupy the top of the charts like tuneless angels on a Christmas tree. In 1973 the first of the big seasonal songs arrived. "Merry Xmas Everybody" was Number One for five weeks from the beginning of December, and would keep Slade in furry boots and dodgy haircuts for life. The next year delivered Mud's "Lonely this Christmas" and from then on the festive charts have been dominated by novelty, eccentricity and just plain creepy. For example "There's No-one Quite Like Grandma" by St Winifred's School choir, bless them, in 1980; possibly the worst song ever to reach Number One, let alone the saintly Christmas peak.

In the Eighties record companies had begun to realize the potential of this yearly goldmine and the labels began scheduling specifically for December to ensure maximum sales. Greatest hits packages began to appear, first on 8-track and then on cassette. A big seller at Christmas could make wallets bulge, and everyone sat up and took notice. Midge Ure and Bob Geldof certainly did and, in 1984, a motley crew of singers, musicians and Phil Collins recorded and released "Do They Know It's Christmas", the most successful charity single ever. They did it again in 1989, with a watered-down line up, making it the only song to go straight into the Christmas Number One spot twice. Odds are on that it'll be Number One again this year, which isn't bad for a song so wet from sentiment.

Speaking of wet from sentiment, we come neatly to Cliff Richard. Cliff is another tradition retrieved from the attic and dusted down around this time of year, with three Christmas Number Ones in the December Top Ten. Sir Cliff seems to do well with Christian ballads, like "Saviors Day" and "Millennium Prayer", which just missed out on Number One in Britain and Ireland in 2000, as well as soppy stuff like "Mistletoe and Wine" and "I Love You".

So, considering that Cliff, Band Aid, Michael Jackson's "Earth Song", "Stay Another Day" by East 17 and "I Will Always Love You" by Whitney Houston were all found in millions of stockings in the Nineties, is it sentimental stuff that people buy" perhaps putting the word "Christmas" in the title works? Band Aid did it, Dickie Valentine's "Christmas Alphabet" did it, as did the aforementioned Mud, even Shakin' Stevens did it, wishing "Merry Christmas Everyone". This tactic didn't work for The Vandals however, as their singles "My First Xmas (As A Woman)" and "Christmas Time For My Penis" tragically, never troubled the Christmas charts. It also didn't help Run DMC's 1987 attempt to crack the Yuletide market "Christmas In Hollis", which informed us that "the rhymes you hear are the rhymes of Darryl's / but each and every year we bust Christmas carols".

It's not all bad though. "Another Brick In The Wall" was a Christmas Number One, as was "Bohemian Rhapsody", twice. For their fan club every year REM release a cover of a different Christmas classic, and you won't pay less than $100 on E-Bay for any of them. No self respecting soul man would be without James Brown's Legendary "Funky Christmas", which contains such classics as "Santa! Go Straight To The Ghetto" at this time of year and, if you're treating yourself, you could do worse than getting a copy of "Christmas" by Low.

So what have we learned kids? Well, perhaps we now know that novelty, charity and sentimental songs dominate the Christmas charts, and that taste, like snow, is rarely seen. At least we'll always have those traditional Carols, "Fairytale Of New York" and "White Christmas". Hmm, maybe it's not so bad after all...

Have a Merry, Funky Christmas!

Kierry

Discuss this article on the CLUAS discussion board.
Previous CLUAS Opinion pieces...
Dateline: January 2006

I hate buskers. Hate them, hate them, hate them. Can't stand them. Won't put up with them. Acoustic-guitar shouter on Grafton Street blocking me going into Bewleys? Get out of my way! Doddery old accordion fella on the Paris metro? Go off and do something productive like starting a riot! Half-naked cowboy guy in New York? Pull up your pants, you eejit! Read the full article...

Dateline: December 2005

The majority of the music fed to the masses, sucks. It's watered down sufficiently to appeal to as many people as possible, in order to offend as few as possible, in order to shift as many units as possible, which is why most entries into the charts are offensive. Dance is "cheesy" (or worse still, "commercial", duh). Pop is dominated by boy bands, novelty songs, runners up in reality TV shows and 2-dimensional 'stars?... Read the full article...

What Pop Music Can Teach Us About The Spirit Of Christmas...

Dateline: December 2005

I was driving home the other night to the missus, listening to Rufus Wainwright's 'Spotlight on Christmas', and it struck me that this simple song, originally recorded for a MOJO Magazine Christmas themed CD, had more to say about the core truths of Jesus Christ and Christmas than anything I've heard from the Roman Catholic Church in quite some time. Read the full article...

Dateline: December 2005

Alas, another year has rolled by. It was a long period, when many a Euro had been tossed towards the outstretched claws of music promoters and record store employees. But, this is the time of the year that one should thank them for stocking the music one wants, and for putting on the shows that one desires to attend. It's also time highlight some of the unsigned acts that have rapidly matured over the past twelve months. Of the many who contested for one's attention, there were the following ten that - for me at least - managed to stand out... Read the full article...

Homosexuality in pop music and the taboos that still surround it...

Dateline: September 2005

Mark Feehily from Westlife recently revealed - via tabloid, naturally - that he was gay. Being neither gay nor a Westlife fan, I had no feelings of solidarity, shock or anything about it. Initially I gave it as little interest as I do to Brian McFadden's nauseating attempts to cling to celebrity status by moaning about it as publicly as possible. Read the full article...

Dateline: June 2005

It has run the full gamut of description: from the ultimate marketing coup to the end of music as we know it, a ring tone has crossed over to top the singles chart. This has prompted a collective scratching of heads, much comment on the thirty million spent promoting it and general sympathy for Coldplay, who lost out in the race for the top spot. But before we all run out to buy Coldplay's next single to right this abhorrence, should we really be surprised that the music industry is more comfortable doing business without an artist? Read the full article...

Dateline: May 2005

Here they are. The ten songs every unreconstructed male should have close to hand, preferably on a mix CD stashed in your sock drawer, to be played only prior to emergencies (baby showers, distant relatives? funerals and dinner with her friends). Read the full article...

Dateline: March 2005

Some say that rock music, at least rock music with the balls to look you in the eye and force a sigh, is dead and gone. They claim that it died on a couch with Sid Vicious, in a lonely hotel room with Janis, growing cold in a bath with Jim Morrison or twitching on a puke-stained bed with Bonzo Bonham. Read the full article...

Dateline: February 2005

So the sorry case of Michael Jackson surfaces again in our news. At the time of writing he stands accused of an appalling crime, one that our society rightly regards as indefensible and sickening. Jackson is, of course, innocent until proven guilty. However, short of inventing a cure for cancer, AIDS and the common cold in one pill, nothing that he could do will ever redeem his reputation now, even if he is found innocent. Read the full article...

Dateline: January 2005

Once upon a time, Whelan's of Wexford Street Dublin was considered to be the coolest place to be. At its peak of popularity it was the heartbeat of the Irish music scene. Mainstream and independent artists from various genres have packed the venue over the years and played some memorable shows. In the case of many music fanatics who regularly attend gigs in Ireland, Whelan's was once hailed as their musical Mecca. Lately though, the buzz around the place is slowly eroding away. Why is this? What is going wrong? Read the full article...

Dateline: December 2004

As a nation of minstrels and planxties our respect and nostalgic soft-spot for a one-man singer-songwriter has kept generations of mellow artistes alive. Singer/songwriter syndrome has imbedded itself in the Irish music scene, with Damien Rice and Mundy becoming our musical spokesmen. However it seems the day of the man with a guitar singing of love and happiness is coming to an end, threatened to be uprooted by a darker movement which has wrapped its claws around the Irish underground. Make way for metal! Read the full article...

Dateline: November 2004

The usual process for writing one of these Op-Ed pieces is that anyone writing one of these sends a basic idea to Jules our Op-Ed-Editor so to speak. If Jules gives the idea the nod, we then spend about two weeks hammering it out into something vaguely coherent. This Op-Ed was originally supposed to be a well researched and thought out piece on how copyright and recording technology have changed modern music. Well nuts to that. Read the full article...

Dateline: October 2004

I write from California. I spent my 20s in Los Angeles during the Reagan Era, and it was hell. That administration was supporting death and torture squads in El Salvador and Nicaragua, The environment was under attack. Far Right nuts were being nominated to the Federal & Supreme Courts. The national debt was being doubled and tripled (sounds like deja-vu all over again, huh?). I remember feeling that it was the first time in our history that the following generation would not have it better than their parents. Read the full article...

Dateline: October 2004

Roddy Doyle said recently in an interview in The Guardian that Ireland doesn't produce great musicians. Considering that he is currently promoting a novel centred on Louis Armstrong and American jazz, it's possible that he may have been quoted out of a very broad context. Nonetheless, he has a valid point. Read the full article...