This opinion article was first published on CLUAS in May 2005
CLUAS Opinion
Rocking in the Boy's Room (the top ten bloke songs)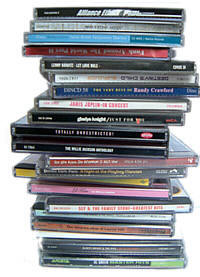 Cormac Looney sits down with his i-Pod to compile the perfect soundtrack for an afternoon spent reading back issues of LOADED and FHM.
---
Here they are. The ten songs every unreconstructed male should have close to hand, preferably on a mix CD stashed in your sock drawer, to be played only prior to emergencies (baby showers, distant relatives" funerals and dinner with her friends).

Of course the essential male topics - alcohol, gambling, sex, girlfriends/wives (ex and current), sport - feature at length. Very often a combination of them crop up mashed into a single tune.

And like most things heavily drenched in testosterone, the extreme end of the stick is generally favoured. The drinking is always more Shane McGowan than Cole Porter, the sex more Led Zeppelin than Chris de Burgh, the ladies more Jenna Jameson than Kirsty Wark.

Of course the list's contents are subjective. Such is the beauty of the enterprise - new odes to table football and fresh paeans to all-day beer blowouts are emerging all the time.

The 10 ten bloke songs then (and no, of course the order doesn't matter):

Brown Sugar - Rolling Stones
It's lascivious. It's misogynistic. It f***ing rocks. Listen to it hard enough and you'll need a shower afterwards.

Bottle of Smoke - The Pogues
?Twenty f**king five to one - me gambling days are done' - Can you imagine your girlfriend/granny/mother/sister returning home from the bookies on a Saturday afternoon with such a report" neither can I.

Pawn of Porn - Jinx Lennon
Come on - what bloke can honestly say he hasn't found himself in an adult shop on Capel Street at 11 in the morning? In a two minute salvo, Louth's punk poet exposes the dichotomy at the heart of buying pornography - "I see boys and girls walking around and I feel ashamed, and I realise the sex industry makes it out to be something that it ain't?but I can't stop looking at porn" (repeat to fade).

Up the Junction - Squeeze
"The devil came and took me, from bar to street to bookie - no more nights by the telly, no more nights nappies smelling." A cautionary tale, sober in its message but sloppy drunk in its telling. Just to prove that it's not really a Lad's life.

Her Father Didn't Like Me Anyway - Shane MacGowan
Self-explanatory really. Having too many pints "to relax" prior to a family meal at hers - a mistake that's only made once.

Idiot Wind - Bob Dylan
Admittedly this could be spat out by any of the sexes. "I kissed goodbye to the howling beast, on the borderline that separated you from me," Bob sings. Man, she must have been cute.

Undertones - My Perfect Cousin
You're 10. You're obsessed with table football. You're mother's favourite nephew comes visits on a Saturday and trashes you. You never forgive the b**tard.

The Holy Ground - The Clancy Brothers
Really a case of "insert rip-roaring Irish ballad here". The chorus to this bawdy number, which celebrates the dubious pleasures of a sailor's life, ends with the refrain (sung to the accompaniment of drunken backs being heartily thumped) - "fine girl y'are!? And to think the impressionable Greenwich Village boho babes fell for it?the perfect crime.

Honey I'm A Big Boy Now - Billy Bragg
?I can clean and dress and wash myself and sleep without the light on, Honey I'm a big boy now" Bragg sings to his old girlfriend. If only he'd done it all before they broke up.

Amhran na bhFiann - Peadar Kearney
Is there anything that makes you more proud to be a sporting Irishman than hearing this sung arse-ways at Croke Park or Lansdowne Road ahead of 70 or 90 minutes of unbridled chauvinism? And, in a neat irony, the song was written by an uncle of that legendary (once) living cliché of all things Irish male, Brendan Behan. All together now "Shinafeenafall!"

Previous CLUAS Opinion pieces...
Dateline: January 2006

I hate buskers. Hate them, hate them, hate them. Can't stand them. Won't put up with them. Acoustic-guitar shouter on Grafton Street blocking me going into Bewleys? Get out of my way! Doddery old accordion fella on the Paris metro? Go off and do something productive like starting a riot! Half-naked cowboy guy in New York? Pull up your pants, you eejit! Read the full article...

Dateline: December 2005

The majority of the music fed to the masses, sucks. It's watered down sufficiently to appeal to as many people as possible, in order to offend as few as possible, in order to shift as many units as possible, which is why most entries into the charts are offensive. Dance is "cheesy" (or worse still, "commercial", duh). Pop is dominated by boy bands, novelty songs, runners up in reality TV shows and 2-dimensional 'stars?... Read the full article...

What Pop Music Can Teach Us About The Spirit Of Christmas...

Dateline: December 2005

I was driving home the other night to the missus, listening to Rufus Wainwright's 'Spotlight on Christmas', and it struck me that this simple song, originally recorded for a MOJO Magazine Christmas themed CD, had more to say about the core truths of Jesus Christ and Christmas than anything I've heard from the Roman Catholic Church in quite some time. Read the full article...

Dateline: December 2005

Alas, another year has rolled by. It was a long period, when many a Euro had been tossed towards the outstretched claws of music promoters and record store employees. But, this is the time of the year that one should thank them for stocking the music one wants, and for putting on the shows that one desires to attend. It's also time highlight some of the unsigned acts that have rapidly matured over the past twelve months. Of the many who contested for one's attention, there were the following ten that - for me at least - managed to stand out... Read the full article...

Homosexuality in pop music and the taboos that still surround it...

Dateline: September 2005

Mark Feehily from Westlife recently revealed - via tabloid, naturally - that he was gay. Being neither gay nor a Westlife fan, I had no feelings of solidarity, shock or anything about it. Initially I gave it as little interest as I do to Brian McFadden's nauseating attempts to cling to celebrity status by moaning about it as publicly as possible. Read the full article...

Dateline: June 2005

It has run the full gamut of description: from the ultimate marketing coup to the end of music as we know it, a ring tone has crossed over to top the singles chart. This has prompted a collective scratching of heads, much comment on the thirty million spent promoting it and general sympathy for Coldplay, who lost out in the race for the top spot. But before we all run out to buy Coldplay's next single to right this abhorrence, should we really be surprised that the music industry is more comfortable doing business without an artist? Read the full article...

Dateline: May 2005

Here they are. The ten songs every unreconstructed male should have close to hand, preferably on a mix CD stashed in your sock drawer, to be played only prior to emergencies (baby showers, distant relatives? funerals and dinner with her friends). Read the full article...

Dateline: March 2005

Some say that rock music, at least rock music with the balls to look you in the eye and force a sigh, is dead and gone. They claim that it died on a couch with Sid Vicious, in a lonely hotel room with Janis, growing cold in a bath with Jim Morrison or twitching on a puke-stained bed with Bonzo Bonham. Read the full article...

Dateline: February 2005

So the sorry case of Michael Jackson surfaces again in our news. At the time of writing he stands accused of an appalling crime, one that our society rightly regards as indefensible and sickening. Jackson is, of course, innocent until proven guilty. However, short of inventing a cure for cancer, AIDS and the common cold in one pill, nothing that he could do will ever redeem his reputation now, even if he is found innocent. Read the full article...

Dateline: January 2005

Once upon a time, Whelan's of Wexford Street Dublin was considered to be the coolest place to be. At its peak of popularity it was the heartbeat of the Irish music scene. Mainstream and independent artists from various genres have packed the venue over the years and played some memorable shows. In the case of many music fanatics who regularly attend gigs in Ireland, Whelan's was once hailed as their musical Mecca. Lately though, the buzz around the place is slowly eroding away. Why is this? What is going wrong? Read the full article...

Dateline: December 2004

As a nation of minstrels and planxties our respect and nostalgic soft-spot for a one-man singer-songwriter has kept generations of mellow artistes alive. Singer/songwriter syndrome has imbedded itself in the Irish music scene, with Damien Rice and Mundy becoming our musical spokesmen. However it seems the day of the man with a guitar singing of love and happiness is coming to an end, threatened to be uprooted by a darker movement which has wrapped its claws around the Irish underground. Make way for metal! Read the full article...

Dateline: November 2004

The usual process for writing one of these Op-Ed pieces is that anyone writing one of these sends a basic idea to Jules our Op-Ed-Editor so to speak. If Jules gives the idea the nod, we then spend about two weeks hammering it out into something vaguely coherent. This Op-Ed was originally supposed to be a well researched and thought out piece on how copyright and recording technology have changed modern music. Well nuts to that. Read the full article...

Dateline: October 2004

I write from California. I spent my 20s in Los Angeles during the Reagan Era, and it was hell. That administration was supporting death and torture squads in El Salvador and Nicaragua, The environment was under attack. Far Right nuts were being nominated to the Federal & Supreme Courts. The national debt was being doubled and tripled (sounds like deja-vu all over again, huh?). I remember feeling that it was the first time in our history that the following generation would not have it better than their parents. Read the full article...

Dateline: October 2004

Roddy Doyle said recently in an interview in The Guardian that Ireland doesn't produce great musicians. Considering that he is currently promoting a novel centred on Louis Armstrong and American jazz, it's possible that he may have been quoted out of a very broad context. Nonetheless, he has a valid point. Read the full article...