This opinion article was first published on CLUAS in November 2004
CLUAS Opinion
The Roland Massacre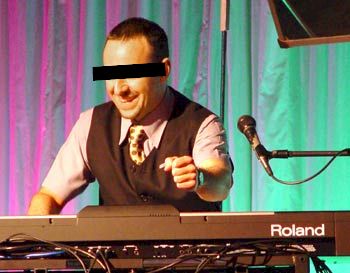 In the 3rd CLUAS Opinion piece, Doctor Binokular reflects on the not-always-positive use of modern technology by those who like to think they are entertaining us...
---
The usual process for writing one of these Op-Ed pieces is that anyone writing one of these sends a basic idea to Jules our Op-Ed-Editor so to speak. If Jules gives the idea the nod, we then spend about two weeks hammering it out into something vaguely coherent. This Op-Ed was originally supposed to be a well researched and thought out piece on how copyright and recording technology have changed modern music. Well nuts to that, I was getting bored even thinking about it, and what's more, inspiration struck me in the place where all the great schemes and ideas of mankind have been forged: the pub. I have discovered that yes, technology has changed music, sometimes for the good, but that fateful evening I discovered it also has a dark side too.

It all started out innocently enough as these things do, a group of friends enjoying an evening in one of Cork city's' nicer drinking establishments and the evening would have continued this way if wasn't for the fact that someone suggested we should go see her father's band which was playing a gig in another pub. Of course we all decided to go along with the idea, maybe it was mob mentality, just following the crowd, maybe it was morbid curiosity, who knows, but what followed was to be a night that was simultaneously horrific, surreal and entertaining. The same ingredients as a good car crash basically.

We arrived at said pub, which let's just say catered for a slightly older clientele than ourselves, to find that the "band" was not really a band at all. It was just said girl's dad with a rack of moderately expensive looking keyboards and another bloke who filled in on lead vocal duties. They kind of looked like an over-50s answer to the Pet Shop Boys. There was also a foreboding sense that I had walked onto the set of "Phoenix Nights". Any minute now I expected Peter Kay would walk in the door. In fairness, I should point out that one of these keyboards was actually a Technics, but "The Technics Tussle" doesn't sound as cool a title as "The Roland Massacre"

Now an electronic keyboard/synthesizer/workstation, whatever you wish to call it, is a fairly innocuous piece of kit. A useful instrument that can function either as a cost effective way for a rock band to fill out their arrangements or be used to create music in itself. Give one of these to Ralph Hutter and Florian Schneider and you might end up with something resembling "Autobahn" or "Tour De France". In the hands of Juan Atkins, it might be used to create finely crafted Techno. The Human League might have even squeezed a decent slice of pop out of it. In the hands of the working pub musician doing covers however, he probably sees it as nice little earner. The ability to re-create the entire sounds of a showband without the hassle of having to hire all those musicians! Less personnel! More cash! Less of that lugging heavy stuff into a Ford Transit! Great!

Except of course for one problem, when it comes to recreating the sound of an entire band, these keyboards seem to fail spectacularly when placed in the hands of the pub musician. Regardless of how modern or expensive the keyboard, he will still manage to make it sound like the tune you would get by pressing the "Demo" button on that cheap €30 Casio mini-keyboard your mum bought you in 1989. The Chemical Brothers would often label early versions of their tracks that they gave to DJs as "Electronic Battle Weapon". Well sorry guys, that's nothing compared to how lethal a keyboard is in the hands of a pub musician. He wields it like a digital katana, mercilessly striking down all that stands in his musical path. The songs, regardless of their original brilliance are all without fail massacred with brutal and ruthless efficiency.

His repertoire consisted of what could be genuinely called popular music (as opposed to "pop" music). As Del Boy in "Only Fools and Horses" could tell you, real popular music isn't what's number one in the charts. Don't believe me? Then just take a look at how few singles you have to shift these days to have a number one. Certainly if the urban legend is to be believed, Louis Walsh only needed to fill the boot of a medium sized family car to catapult Boyzone right to the top. No, real popular music is made up of the songs that everyone, even your elderly maiden aunt knows and recognizes immediately. The kind of stuff the DJ can play at virtually any wedding reception without worrying about getting into trouble or the dance floor clearing like the Red Sea parting before Moses.

You might get the impression from what I described that I had spent the entire evening curled up in the foetal position under a table with my eyes closed and my fingers in my ears so as to block out the horror of it all, hoping that it would soon all be over. Nothing could be further from the truth. Like I said earlier, it had all the elements of a good car crash. It may be horrific but it is also fascinating, entertaining and surreal and just like witnessing a car crash, you just can't look away. You will notice that I've been using the word surreal a lot, but that doesn't quite cover it. Even Dali and DaDa could not match this guy. Who knows? This may be the work of genius or possibly a savant that we couldn't quite comprehend. Over the course of the evening we were treated to unique versions of a diverse selection of songs such as Brendan Boyer's "The Huckabuck" (gotta throw in a showband tune to keep the crowd sweet), Credence Clearwater Revival's "Proud Mary" (when requested to play "something by Tina Turner"), The Kinks' "Sunny Afternoon" and "Dedicated Follower of Fashion", Neil Diamond's "Sweet Caroline", The Monkees' "I'm a believer", a version of "Ghost Riders in the Sky" that was more Tom Jones than Johnny Cash along with the usual traditional selection of Irish drinking ballads, all delivered in his own style. That style generally being tinny Casio style beats (and I don't mean that in a good "Big Boi from Outkast production style" way either), hideous instrument textures, slightly over-the-top vocals and crimes against auto-accompaniment. Amazingly, despite repeated requests from the audience, no Joe Dolan numbers were played. Even pub musicians have standards I guess.

While the performance may have had few musical and sonic virtues, in terms of pure entertainment value it would be hard to top. Certainly with the right attitude and a large group of like-minded, fun-loving friends, it is made all the more enjoyable. Only the most dour, serious indie kid could fail to be amused. It is interesting to note how men and women respond differently when presented with something this cheesy. I have noticed that women do tend to respond much more favourably to cheese and are more likely to fully throw themselves into the spirit of the occasion. Singing along, cheering and dancing without any real sense of inhibition. Us guys on the other hand may enjoy and be amused by such cheese, but we do tend to be a little more reserved in such situations and feel the need to stand back and at least show we appreciate the "irony" of what's going on rather than fully embracing it. There was much discussion among the blokes present about how much we wished we had some way of recording all this for posterity. One chap even came up with the idea of converting the recordings to MP3 and creating a site called "rolandmassacre.com" which in true journalistic tradition I plagiarised for the title of this article. Good fun, but much more reserved than the girls' antics. Well, I did try to show a little reserve and dignity, that is until the band broke into their comically bouncy and rowdy version of The Scaffolds' late sixties novelty hit "Lily The Pink". With the girls riotously singing along I couldn't hold it in any more and my head collapsed into my hands in a fit of uncontrollable belly laughter with tears streaming down my face, I couldn't even breathe. Someone fetch me an oxygen mask, I think I need to lie down somewhere quiet.

I think this cautionary tale shows that electronic music isn't all edgy cool and ambient soundscapes. Outside the accepted worlds of Electronica, Techno, House, Electro, Hip hop, Garage, Drum'n'Bass, etc. lies a murky dark underworld of pure cheese where Roland Massacres like this take place every night in a friendly local near you or even busking on the street. Something needs to be done, I'd gladly hand out pump action shotguns and assault rifles to these guys before I'd let them within fifty feet of a keyboard. Sadly however, it is too late to do anything, Frankenstein's monster has been awakened. Thanks to the unstoppable march of technology, capitalism and cheap consumer goods, these innocuous looking electronic battle weapons of mass destruction have fallen into the hands of the terrorists. Not even George W. Bush can stop the Roland Massacres now and Fatboy Slim should have thought about the consequences a little harder when he said "everybody needs a 303".

Discuss this article on the CLUAS discussion board.
Previous CLUAS Opinion pieces...
Dateline: January 2006

I hate buskers. Hate them, hate them, hate them. Can't stand them. Won't put up with them. Acoustic-guitar shouter on Grafton Street blocking me going into Bewleys? Get out of my way! Doddery old accordion fella on the Paris metro? Go off and do something productive like starting a riot! Half-naked cowboy guy in New York? Pull up your pants, you eejit! Read the full article...

Dateline: December 2005

The majority of the music fed to the masses, sucks. It's watered down sufficiently to appeal to as many people as possible, in order to offend as few as possible, in order to shift as many units as possible, which is why most entries into the charts are offensive. Dance is "cheesy" (or worse still, "commercial", duh). Pop is dominated by boy bands, novelty songs, runners up in reality TV shows and 2-dimensional 'stars?... Read the full article...

What Pop Music Can Teach Us About The Spirit Of Christmas...

Dateline: December 2005

I was driving home the other night to the missus, listening to Rufus Wainwright's 'Spotlight on Christmas', and it struck me that this simple song, originally recorded for a MOJO Magazine Christmas themed CD, had more to say about the core truths of Jesus Christ and Christmas than anything I've heard from the Roman Catholic Church in quite some time. Read the full article...

Dateline: December 2005

Alas, another year has rolled by. It was a long period, when many a Euro had been tossed towards the outstretched claws of music promoters and record store employees. But, this is the time of the year that one should thank them for stocking the music one wants, and for putting on the shows that one desires to attend. It's also time highlight some of the unsigned acts that have rapidly matured over the past twelve months. Of the many who contested for one's attention, there were the following ten that - for me at least - managed to stand out... Read the full article...

Homosexuality in pop music and the taboos that still surround it...

Dateline: September 2005

Mark Feehily from Westlife recently revealed - via tabloid, naturally - that he was gay. Being neither gay nor a Westlife fan, I had no feelings of solidarity, shock or anything about it. Initially I gave it as little interest as I do to Brian McFadden's nauseating attempts to cling to celebrity status by moaning about it as publicly as possible. Read the full article...

Dateline: June 2005

It has run the full gamut of description: from the ultimate marketing coup to the end of music as we know it, a ring tone has crossed over to top the singles chart. This has prompted a collective scratching of heads, much comment on the thirty million spent promoting it and general sympathy for Coldplay, who lost out in the race for the top spot. But before we all run out to buy Coldplay's next single to right this abhorrence, should we really be surprised that the music industry is more comfortable doing business without an artist? Read the full article...

Dateline: May 2005

Here they are. The ten songs every unreconstructed male should have close to hand, preferably on a mix CD stashed in your sock drawer, to be played only prior to emergencies (baby showers, distant relatives? funerals and dinner with her friends). Read the full article...

Dateline: March 2005

Some say that rock music, at least rock music with the balls to look you in the eye and force a sigh, is dead and gone. They claim that it died on a couch with Sid Vicious, in a lonely hotel room with Janis, growing cold in a bath with Jim Morrison or twitching on a puke-stained bed with Bonzo Bonham. Read the full article...

Dateline: February 2005

So the sorry case of Michael Jackson surfaces again in our news. At the time of writing he stands accused of an appalling crime, one that our society rightly regards as indefensible and sickening. Jackson is, of course, innocent until proven guilty. However, short of inventing a cure for cancer, AIDS and the common cold in one pill, nothing that he could do will ever redeem his reputation now, even if he is found innocent. Read the full article...

Dateline: January 2005

Once upon a time, Whelan's of Wexford Street Dublin was considered to be the coolest place to be. At its peak of popularity it was the heartbeat of the Irish music scene. Mainstream and independent artists from various genres have packed the venue over the years and played some memorable shows. In the case of many music fanatics who regularly attend gigs in Ireland, Whelan's was once hailed as their musical Mecca. Lately though, the buzz around the place is slowly eroding away. Why is this? What is going wrong? Read the full article...

Dateline: December 2004

As a nation of minstrels and planxties our respect and nostalgic soft-spot for a one-man singer-songwriter has kept generations of mellow artistes alive. Singer/songwriter syndrome has imbedded itself in the Irish music scene, with Damien Rice and Mundy becoming our musical spokesmen. However it seems the day of the man with a guitar singing of love and happiness is coming to an end, threatened to be uprooted by a darker movement which has wrapped its claws around the Irish underground. Make way for metal! Read the full article...

Dateline: November 2004

The usual process for writing one of these Op-Ed pieces is that anyone writing one of these sends a basic idea to Jules our Op-Ed-Editor so to speak. If Jules gives the idea the nod, we then spend about two weeks hammering it out into something vaguely coherent. This Op-Ed was originally supposed to be a well researched and thought out piece on how copyright and recording technology have changed modern music. Well nuts to that. Read the full article...

Dateline: October 2004

I write from California. I spent my 20s in Los Angeles during the Reagan Era, and it was hell. That administration was supporting death and torture squads in El Salvador and Nicaragua, The environment was under attack. Far Right nuts were being nominated to the Federal & Supreme Courts. The national debt was being doubled and tripled (sounds like deja-vu all over again, huh?). I remember feeling that it was the first time in our history that the following generation would not have it better than their parents. Read the full article...

Dateline: October 2004

Roddy Doyle said recently in an interview in The Guardian that Ireland doesn't produce great musicians. Considering that he is currently promoting a novel centred on Louis Armstrong and American jazz, it's possible that he may have been quoted out of a very broad context. Nonetheless, he has a valid point. Read the full article...