This article was first published on CLUAS in February 2008
Dry County - 2007 Choice Music Award nominee
Their album 'Unexpected Falls' was nominated for the award...
Dry County answer below the questions CLUAS put to all 10 acts nominated for the 2007 Choice Music Award. Check out the answers from the other acts up for this year's award.
---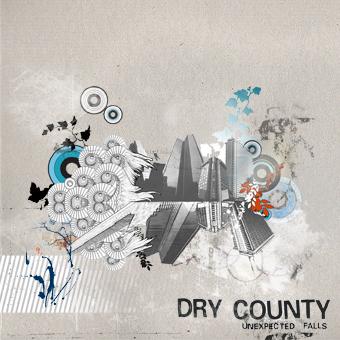 Give us a little synopsis of about how this album came about and what was it like writing and recording it?
After releasing Nothing Stays In Place, our second E.P, we got stuck into writing and recording new material but found that every song we put together was sounding very different to the last. There wasn't much cohesion between them and there were noticeable progressions in our overall sound, song writing and recordings. The idea of an album having a particular flow and mood, not just a bunch of songs thrown side by side, is very important to us. So Unexpected Falls ended up taking us 3 years to complete but holding off until we were 100% happy with it was possibly the best thing we ever did. We recorded it ourselves in various houses around the country basically trying to keep the recording process as interesting and as fun as possible.

How do you feel about the idea of music awards in general?
They're not the 'be all and end all' but when you've worked so hard at something for a long period of time the acknowledgment kind of confirms a lot of things. Well it did for us anyway.

Do you feel winning the award will enhance your career?
Just being nominated has done so much for us. Album sales have gone up and there's a definite increase of interest in the band online, with MySpace and the likes. In saying that if we were to win we'd be in a much better position to bring the album further afield and even start the second one.

Your favourite album from those also nominated for the Prize?
We've tried to listen to all the albums nominated but are still making our way through them. It seems to a varied list this year. Nice to see Kila and Super Extra Bonus Party there.

Do you think the idea of the album is a little antiquated in these days of single track downloading and plummeting CD sales?
Its clich? but, we're big fans of albums and the packaging they come in. We all still believe in going into a record shop and buying a complete package. There's something quite empty about just having an mp3 album on your computer.

Do you feel the Irish music scene is in a healthy state at the moment?
It's really the same as it ever was. There has always been really good music in Ireland, but you have to go looking. I think the live scene in Dublin is suffering a lot at the moment. Venues are forcing bands to go on earlier so they can put clubs on after, just to make more money. And the public seem to be going out later because nights out have become so expensive.

Best gig you went to in 2007?
The Electric Picnic was very good. Bjork, !!!, Beastie Boys and The Fall all on the same bill. Also Nine Inch Nails in Barcelona.

Plans for 2008?
Tour heavily in Ireland and the UK. Hopefully we'll get the album out over there. Possibly hit Europe and start writing and recording the next album!

How are changes in technology influencing how you record, distribute or publicise your music?
Because we record our material ourselves, progressions in technology and the fact that hi end software and hardware are becoming affordable is so important to us. We're able to experiment and use really great gear to produce music that doesn't end up sounding like cheap bedroom recordings. Although sometimes that sound is the business!

A lesser known, non-music, website (or two) you'd recommend to CLUAS readers?
And one for the kids: The Impossible Quiz (health warning from Ed: this last site is huge - 8 MB to download - and will
stress even the fastest of broadband connections).
---