This article was first published on CLUAS in February 2008
Delerentos - 2007 Choice Music Award nominee
Their album 'In Love with Detail' was nominated for the award...
Delerentos answer below questions CLUAS put to all 10 acts nominated for the 2007 Choice Music Award. Check out the answers from the other acts up for this year's award.
---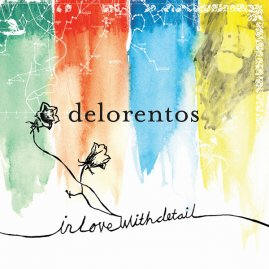 Give us a little synopsis of about how this album came about and what was it like writing and recording it?
After we finished college we started writing and rehearsing together, using a granny flat out in Portrane (the middle of nowhere in the outskirts of Dublin). For 2 years we spent every other day and night there, jamming and coming up with our first songs together, playing a handful of gigs along the way. We spent days and weeks piecing songs and bits of music together, trying them out at gigs, learning how to play off each other. We made a couple of EPs and by the winter of 2006 had written enough songs that we were happy with to make an album.
It was a ridiculously intense process, we lost touch with some friends and girlfriends along the way, but we got a chance to make an album we were proud of. We knew bands in similar positions to us that for one reason or another never got a chance to make an album, so we were determined to make sure that didn't happen to us. We didn't want to wait around for anyone so we made and released the album ourselves. It wasn't easy, but I know none of us would pass up the opportunity to do it all again. Spending the winter holed up in a studio in Temple Bar, recording all day and night, and leaving when the sun was coming up was a unique experience.

How do you feel about the idea of music awards in general?
I wish there were more shortlists without any one winner, but I know that wouldn't be as interesting. In saying that, it's always good fun having a winner that divides the audience and sparks heated arguments over merit and injustice.

Do you feel winning the award will enhance your career?
It has been brilliant to be nominated, there have been a lot of great albums nominated in the few years the Choice has been around. But honestly the only thing that will enhance our career, is us, writing new and better music.

Your favourite album from those also nominated for the Prize?
Personally, I like The Flaws and Super Extra Bonus Party albums a lot.

Do you think the idea of the album is a little antiquated in these days of single track downloading and plummeting CD sales?
I don't think the idea of an album per se is antiquated, but it definitely is in danger of being squeezed out. Although in saying that, people that download single tracks and enjoy them are more likely to buy the next album that comes out.

Do you feel the Irish music scene is in a healthy state at the moment?
I think for a country this size we have a great music scene, and that some of the best music from this country stands up against anything that's coming out of other European Countries including the UK.

Best gig you went to in 2007?
Andrew Bird at South by Southwest in Texas last year, that or the Beastie Boys at Electric Picnic.

Plans for 2008?
We're going to spend the year balancing playing abroad with writing our second album.

How are changes in technology influencing how you record, distribute or publicise your music?
It's easier for us to demo or remix things at home, and for a band like us that doesn't have a label for distribution or publicity, it's great to be able to release MP3s or let people know what's going on with us in blogs or on websites.

A lesser known, non-music, website (or two) you'd recommend to CLUAS readers?
---