This article was first published
on CLUAS in July 2006
French Letter: Phoenix ready to make it big?
Air Today, Phoenix Tomorrow? France's latest act to rise from les ashes...
Aidan Curran, a CLUAS writer since 2004, is now based in Paris from where he files the 'French Letter' column

It's hard to concentrate on music at the moment when football, wonderful football, is demanding all your love and attention. The French rock scene, however, could soon have its own international champions before the end of the summer. Phoenix, from Versailles, have just released their third album "It's Never Been Like That" and big things are expected of them.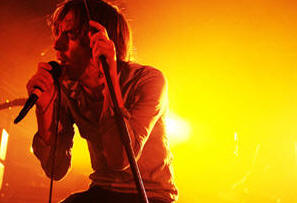 You may already know their song 'Too Young' which featured on the soundtrack to Sofia Coppola's 'Lost In Translation'. To top that, they not only contribute a track ("Ou Boivent Les Loups", or in English 'where the wolves drink') to Coppola's new movie 'Marie Antoinette' (a rock-soundtracked biopic of a more famous Versailles-dweller and cake-promoter) but they also appear in a ballroom scene where lead singer Thomas Mars as a court musician offers a rose to Kirsten Dunst as the queen (if you watch carefully, the two lads from Air also appear in a couple of banquet scenes).

Of course, it's not incidental that Mars is actually going out with Coppola. But, nepotistic favours aside, could they really make an international breakthrough?

The British press, who normally snigger at the idea of French rock (Daft Punk are named after an NME reviewer's rubbishing of their previous band), have been positively gushing about Phoenix. Album track 'Napoleon Says' is "stunning" in the opinion of the NME, self-appointed arbiter of who's cool/who's fool for the English pop buyer. The Observer's four-out-of-five rating hails the band's "joyous, foot-pumping power-pop" and as the Sunday Times' record of the week it is "a great album" which "oozes infectious glee" (your chemist can give you a good cream for that). So that's Britain won over, then. Yet the old snobbishness lingers in certain quarters. "Phoenix do pretentiousness as only black-clad Frenchmen can", declares the man from the Times, doing cheap national stereotypes as only conservative journalists can.

As for cracking the States - the Holy Grail of European bands - Billboard magazine enthused about the record's "effortless flair". The connection with Coppola, America's hippest director, guarantees Mars and his band the rare potential for both indie cred and mainstream celebrity status - it's surely the dream of any record company executive.

More than the music, it's this kind of pre-made visibility and name-recognition which promises well for Phoenix's chances of international success. Cynical, but probably true. There's no need to ask the boys in the lab to check out whether Chris Martin's relationship with Gwyneth Paltrow did any harm to Coldplay's sales in America. Maybe a particularly ambitious Irish band could follow suit - Mick Pyro marrying Britney Spears, for instance...

Anyway, if you're heading to Oxegen, V2 or T In The Park this summer you'll have the chance to check out French rock's great hope for yourself - if you're there early enough for the acts down the bill. Next year, though, they could possibly be headliners.