This article was first published
on CLUAS in September 2006
French Letter: La Rentrée 2006
Aidan has a seasonal look at what's stirring in the French music scene...
Aidan Curran, a CLUAS writer since 2004, is now based in Paris from where he files the 'French Letter' column

September in France means "la rentrée" (literally, "the return"), when everybody goes back to school, work and normal life after the whole country was practically shut down for the month of August. France's pop stars are also packing away their beach towels and getting back to the studio and stage. Autumn 2006 will see a flurry of activity on the French music scene.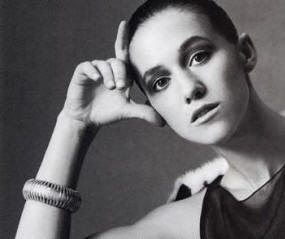 The season's big release is "5:55", the first album in twenty years by Charlotte Gainsbourg. Backed by a truly impressive writing and production team of Air, Nigel Godrich, Jarvis Cocker and Neil Hannon, this will be her first recording since her excruciatingly tuneless pre-teen records with her father Serge in the late "80s. Since then, Charlotte has become a respected actress; her album release coincides with her starring role in Michel Gondry's charming and quirky new movie "The Science of Sleep". She's also due to feature in Todd Haynes? biopic of Bob Dylan, "I'm Not There? (though not as one of the seven Bobs, apparently). With her album being a worthy addition to the Gainsbourg lineage and sure to be a critics" favourite come the end-of-year polls, it seems that 2006 is Charlotte's year.

As well as writing the music for mademoiselle Gainsbourg's album, the lads from Air have their own projects on the boil. Jean-Benoit Dunckel releases his solo album under the nom de rock of Darkel on September 18. The next Air album proper is due for release early in 2007. As their work on the Gainsbourg project continues with the "Moon Safari" lushness that they returned to on "Talkie Walkie", it'll be interesting to see if they spring another "10,000 Hz Legend" surprise on us.

French Letter favourites Phoenix have been busy touring North America, still intent on world domination. If you missed them at Oxegen (and we gather you may have been preoccupied at that festival. Allegedly.) you can catch them at Spirit in Dublin on 23 October.

In Dublin during the summer your correspondent was pleased to discover that the wonderful Camille and her album "Le Fil" had become something of a cult hit in the English-speaking world. After all, it was this very column that first mentioned her in Ireland, marking her single "Ta Douleur" as the pick of the French music of 2005. Like Phoenix, she is currently touring in the USA and due to perform in London in October; no Irish dates have been scheduled at the time of writing.

Now an established star in France, Camille is suffering the downside of her rise to fame. Paparazzi photos of her and an unknown male courtside at the French Open tennis this summer were splashed all over the front covers of gossip mags. A raft of "new Camilles" are being touted by the record companies - first-name-only, 'quirky' personality, organic sounds - that predictably serve to water down public taste for her own unique style. Existing female artists (such as Emilie Simon and Emily Loizeau, both of whom we recommend) find themselves being compared to her despite sounding nothing like her.

And many people here are getting a bit sick of Camille's admittedly odd public behaviour, especially at awards ceremonies. Her acceptance speech at the Victoires de la Musique (equivalent to the Brit or Meteor awards) was the sort of long undulating wail you'd hear from a stricken whale about to be beached. Sounds great on the album; not such a hit on live prime-time television. She collected the prestigious Prix Constantine for best new French musical act with the legendary words "I need to pee!?

Poor old Sebastien Tellier's problems are more serious than bladder control; word has it that he has been suffering from depression and related psychological problems. Nonetheless, he's returning with "Universe", a stop-gap collection of out-takes, alternate versions and soundtrack work, on September 18 (the same day the Darkel album comes out) and some Paris shows are scheduled for October.

Following up his breakthrough 2004 album "Politics" seems to have been a strain on Tellier. During a recent live showcase on Paris station Radio Nova he announced to a stunned audience that his mother had died earlier that day. This came as some surprise to Madame Tellier herself, alive and well and having told all her friends and colleagues to listen in to her son's performance. Sebastien's more immediate concern may not be his next album but his next family gathering.