Bob Dylan
A review of his album 'Live 75: Rolling Thunder Revue'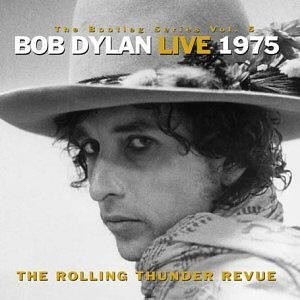 Now that we're consigned to his never-ending tour and no chance of any new material every again, it seems Bob Dylan and his record company handlers are going over his career in a search for niche recordings. They hit gold when they stumbled back over the Rolling Thunder Revue days of Dylan's career.
The 'Rolling Thunder Revue was a side project typical of Dylan and even more typical of the time. That not many official recordings of the period exist gave Sony music the opening to brush up this recording of the group, package it prettily and put it out to battle in the Christmas music market. Live 1975 was recorded in late 1975 when Dylan and some trusted hands set out on an extensive tour of small venues across the north-eastern states of the US, billed as the Rolling Thunder Revue. Before this two-disc collection, there was only the Dylan-directed film Renaldo & Clara, a rambling and near-incomprehensible effort that's hard to track down these days. There's also the bafflingly slim 1976 live release, Hard Rain, from which to make up one's mind about Dylan Rolling Thunder Revue days. The new CDs were however put together from four recorded concerts in November and December 1975, captures the breadth and subtleties of Dylan's Rolling Thunder performances.
Rolling into town like a travelling circus the band would blow into town with a freewheeling glamour, wow the audience and head on down the road to do the same in the next town, night after night. The significance of the Rolling Thunder days is in how they cast light upon a particularly troubled phase in Dylan's career.
In the early seventies Bob Dylan had gone of the radar screen, his only public performance a contribution to George Harrison's Concert for Bangladesh. In 1974 his marriage problems formed part of the backdrop to one of his finest works, the "Blood on the Tracks" album. He then got back with The Band to record "Planet Waves" and a powerful live album "Before the Flood". "Blood on the Tracks" and the less celebrated "Planet Waves" gave Dylan the confidence and the material for the "Rolling Thunder Revue" days. The period was probably one of his happiest: Dylan has always been a maverick journey man, often preferring a life on the road as a kind of refuge and refreshment from the commitment of studio work.
Guitarists David Mansfield (a very accomplished multi-instrumentalist) and David Bowie regular guitarist Mick Ronson were two talented nuclei of the group which switched and changed regularly during the tour. The first cd opens rather incongruously with "Tonight I'll Be Staying Here with You", formerly a coda from Nashville Skyline. "It Ain't Me", Babe is more recognisable. Solo acoustic performances weave through caterwauling full-band treatments of other old staples. One of Dylan's most powerful social songs "The Lonesome Death of Hattie Carroll" goes electric here to poor effect - the song is simply much more powerful in a stripped-back acoustic setting. Later Dylan songs like "Hurricane" also get an electric outing. The live rendition of the polemical "Hurricane" bears all the righteous anger of the studio version at the unjust imprisonment of civil rightist Rubin Carter. His reading of "Sara" meanwhile is an obvious emotional high for Dylan and for his fans.
It would have been manageable and a lot more interesting to hear some of the collaborations by big name guests who joined the caravan. It's great to hear former Dylan girlfriend Joan Baez sounding so good but it wasn't necessary to include four of her tracks unless the quality of other cohorts work wasn't up to scratch, which is unlikely. Anyway, Dylan and Baez together on the rare "Mama, You Been on My Mind" is a highlight of this collection.
Dylan is regularly an infuriating study in the very mediocrity of his concerts - every fan has been angered by a Dylan dud where he mangles one great song after another. This is perfect product however. From start to finish Dylan matches his passion with discipline singing and playing with clarity and feeling. And equally rare in the contemporary Dylan, he chats with his audience in the type of small club setting the later Dylan became increasingly detached from. Dylan gems "Simple Twist Of Fate" and "A Hard Rain's A-Gonna Fall" meanwhile sound jaded, bleached by the electric treatment here while "Knockin' On Heaven's Door" is a different beast from its guise on a billion beatniks' bedroom stereos. It's louder, longer and softer, questionably better, though certainly interesting.
"Live 1975" is a superb record of a particularly fertile period in Bob Dylan's career. It's a carefully selected and smartly produced two hour slice of Bob at the peak of his powers.

To buy a new or (very reasonably priced) 2nd hand copy of this album on Amazon just click here.


Check out the CLUAS review of Bob Dylan's album 'Love and theft' (released in 2001).