This article was first published
on CLUAS in March 2007
French Letter: Irish Music in France this St. Patrick's Day
Aidan on St. Patick's day and Irish music in France...
Aidan Curran, a CLUAS writer since 2004, is now based in Paris from where he files the 'French Letter' column

March and Saint Patrick's Day, when the expat's thoughts turn home. But don't fear that the lavish CLUAS Foreign Correspondent Expense Account is being wasted on homesick yearning for Tayto Crisps, Barry's Tea and TG4 weathergirls. Not at all! Instead, we're taking the opportunity to see how Irish acts are getting on in France these days. And hurrah! They're getting on very well!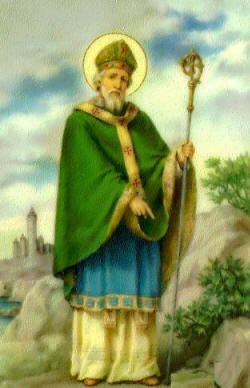 Some Irish artists will this month still be smarting from the recent revelation that the Choice Music Prize was in fact for Lifetime Achievement and not Best Album of the Year. Never mind. Duke Special (our favourite from the shortlist) can at least console himself with the positive reviews he's been getting in France for his fantastic "Songs From The Deep Forest".

Yes, Jacques le Frenchman is well smitten by Peter Wilson's woozy blend of soaring melodies and Belfast vowels (like a Broadway musical adaptation of "Eureka Street"). Les Inrockuptibles, the slightly pretentious yet high-selling music and culture magazine, recently raved about the record in a full-page review - favourable comparisons to Rufus Wainwright, Badly Drawn Boy and The Magnetic Fields leaving no doubt as to the reviewer's high appreciation of Wilson's way with a tune.

Unfortunately, both reviewer and sub-editor spent a bit too much time pointing like peasants at Wilson's dreadlocks - as if extreme hair was ever a bar to making great pop (have they forgotten The Cure already?). Notwithstanding such un-Parisian gaucheness, French music fans are now well aware of this brilliant Irish album, and record shops here are well-stocked with copies - it's enough to gladden any Irish heart.

Good reviews also for Bangor singer-songer Iain Archer, whose second album "Magnetic North" also got the thumbs-up from Les Inrocks... or so we think. French dictionary at hand, we eventually worked out that Archer was being slightly chided for sharing the 'dramaturgie factice' (contrived dramatics) and 'combines larmoyantes' (tearful manipulation) of Blunt, Nutini and friends - a bit unfair, you feel. However, the final verdict fell in favour of Archer's 'poignée de chansons assez bouleversantes' (handful of rather overwhelming songs). Back of the net!

As well as Archer and Duke Special, French fans are still consuming plenty of Snow Patrol and Divine Comedy. Speaking of the latter, Neil Hannon is currently featuring on 'Pocket Symphony', the new album from Air, whom he met while collaborating on Charlotte Gainsbourg's indie-allstars album last year.

Fair play to the Nordies, then - but what about the Free Staters? Well, Damien Rice's international success includes great popularity here in France, where he's currently promoting the rather likeable '9'. He's playing shows in several major French cities during March and April, and his album is selling quite well here.

He recently appeared on the live music show 'Taratata' (similar in vibe and concept to 'Later With Jools Holland'), where he performed a lovely version of 'Rootless Tree' that was quiet and piano-led in comparison to the explosive album track. He also duetted with Ray Lamontagne for a sweet version of "To Love Somebody". And yes, the presenter asked for a bit of hush before Damo started.

But, contrary to the general perception of the man as being precious and over-serious, Rice came across as genuinely relaxed and good-humoured. He spoke about how he spends quite a bit of time in France, which explains how he was able to speak in fairly good French for the interview. He was quite chatty about how writing the second album wasn't easy, how he isn't comfortable with fame, and even how he likes sailing his boat. And given that French people generally like their artists to be, well, artistic, the odd flash of precocity will only make them love him all the more.

By contrast, there's the unwelcome news of an upcoming Paris concert and new album by Dolores O'Riordan. Recently, with parliamentary elections in Northern Ireland and "God Save The Queen" respectfully applauded at Croke Park, it must be galling for Dolores to find all her witless, excruciating songs about "deir tanks and deir bombs and deir bombs and deir guns" now completely redundant. For the rest of us, that's one more reason to celebrate a 'bonne Saint-Patrick!'

Damien Rice performing "Rootless Tree"


Damien Rice and Ray Lamontagne performing 'To Love Somebody"


Damien Rice interview (in French)


Contact this column by email via frenchletter(at)cluas(dot)com