Badly Drawn Boy
A review of his album 'About A Boy' (Soundtrack to the film)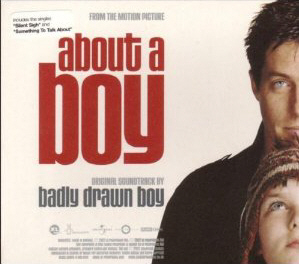 The decision of Damon Gough, aka Badly Drawn Boy, to follow up his Mercury Music Prize winning debut 'The Hour Of Bewilderbeast' with a mainstream film soundtrack may perhaps seem like a strange one. However, it shouldn't be a surprising one as Gough is known for being a bit peculiar. This was mostly highlighted in the shambolic nature of his live shows to promote his last LP. These performances left a lot of people doubting Gough's creative juices. However on this soundtrack (to the latest movie adaptation of a Nick Hornby novel, About A Boy) he quashes all doubts.
Obviously there was a bigger budget for 'About A Boy' than '...Bewilderbeast' and this shows. Recorded in LA and London, Gough drafted in Tom Rothrock to co-produce. While Rothrock is an acclaimed producer, this may appear not to be one of Gough's smartest decisions. After all, Rothrock is renowned for his work with the likes of Beck and Elliot Smith, two of the artists Gough is primarily compared to. However, Gough turns this to one his advantages. One of the album's highlights "Something to Talk About", with it's cheerfully plodding piano, wouldn't sound out of place on an Elliot Smith album ."S.P.A.T is the kind of disco-funk fusion that Beck has been known to let go from time time.
While 'About A Boy' does continue along the same lines of '...Bewilderbeast', there are some rather pleasant new avenues discovered. "Delta (Little Boy Blues)" sounds something like Gomez collaborating with Air or Zero 7, while the current single "Silent Sigh" features a falsetto that we never knew Gough had. The appearance of instrumentals on a B.D.B. record is nothing new, there are six in total on this album and they make it more cohesive. 'About A Boy' wraps up with Gough's limited release Christmas single "Donna and Blitzien". I have not seen the film yet, but one could only imagine the final tearful scenes when the film's "star" Hugh Grant finally gets his girl (feel free to correct me if I'm wrong, but isn't that what happens in all Hugh Grant films?), with this song in the background. This conjuration takes a lot away from what is a quite beautiful love song.
Gough has promised his second album proper before the end of this year. In the meantime, this record rates higher than most stopgap albums. Bono famously noted that the Edge always wears a hat because his brain is so big. On the evidence of this smart and charming soundtrack, maybe the same applies to the maverick talent that is Damon Gough and his famous woolly hat.
Ciaran Ryan

Check out a review of the film About a Boy