This article was first published on CLUAS in January 2008
Interview with Pilotlight
Steven catches up with London based Irish group Pilotlight...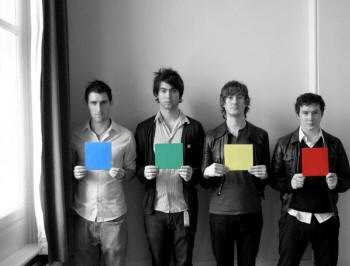 Steven O'Rourke recently caught up with Pilotlight, the London based Irish group, as they prepare to celebrate the launch of their first ever download only single 'Headstart' with a homecoming gig in Whelan's on January 25th.
---
There are those of us who, from force of habit, still refer to you guys as Polar. For the benefit of those CLUAS readers unfamiliar with the story, could you give a brief explanation as to why you guys changed your name to Pilotlight?

Well it was a combination of things really. The main reason was that, unfortunately, there was another Polar, a Swiss electronica act that had released throughout Europe. When we were moving to the UK where we were completely unknown as Polar anyway it made sense for us to change the name at that time. It took a lot of getting used to.

As you mentioned, back in 2005 Pilotlight took the brave decision to forgo the relative comfort zone that is the Irish music scene and establish yourself in London. Was it a tough decision both personally and professionally?

It was definitely a very tough decision to make both personally for each of us and as the band. The hardest part was leaving our family and friends, we miss home a lot, but at the same time we're lucky where we are; if I leave my home in London I can be at my home in Dublin in 3 hours, which is almost like travelling across Dublin in rush hour!

For the band we were certainly leaving a comfort zone but I guess we saw that as a challenge. At our last gig as Polar we played to 400 odd people in the Village and then for our first gig in London as Pilotlight we played to 30 odd people at a venue the size of your living room. It was definitely an eye opener. At least we filled it though!!

Pop culture would have us believe that the Irish music scene, particularly in Dublin, is too small and too cosy for its own good. What was your experience in Ireland?

I think there are positives and negatives to the cosy scene. You tend to play with bands on a similar wavelength to you creatively and often with similar ambitions. That's good in two ways I think - people coming to a gig get to see bands of a similar enough style and are more likely to enjoy the night as a whole, and, as a musician you get a good support structure of like minded people around you. Playing shows with bands that not only are your friends but who you also respect musically is a lot of fun. It's one of the reasons we're looking forward to our Whelan's gig so much as we have Tidal District and Le Galaxie (formerly 66e) playing with us.

What were the negative aspects?

The negative aspect of it, I suppose, is that it can be quite confined - there are only so many times you can tour Ireland before people lose interest. This means you have to be prolific songwriters to keep it fresh and release plenty of material which is good but at the same time it cripples lots of bands starting off. It costs money to do singles/EPs/albums off your own back and unless you're selling plenty of copies and plenty of tickets to gigs you are going to lose money on them. It's why Polar had such a stuttered beginning I think; we would save our money to record and release a single and people would like it and it'd get airplay but it always cost us money so then we'd go back to our part time jobs and college and save for the rest of the year in order to do something again. It was very difficult to get momentum. We only became self-sustainable in the year or so before we left Ireland so it was a long slog.

So how does that compare the London/UK scene?

The UK scene is very different. Where Ireland is very DIY, in the UK there are loads of indie labels to give bands a first step and often these labels have contacts in bigger labels, before you know it you could be a band with one single out, touring the UK with an established band and making a name for yourself. Saying that, everyone in the UK is in a band so there's no lack of competition to get the attention of even the small labels.

As regards to quality of music produced in both scenes the standard seems better in Ireland, you get a lot of good bands in both but you need to search harder to find them in the UK whereas at home I think the bad bands get filtered out much more quickly.
In March of 2007 Pilotlight released 'Bite Your Nails'. It represented many firsts for the band; the first full release as Pilotlight, your first UK release, etc. How did it feel when it finally went on sale; and have you been happy with the reaction to it?

It was brilliant, a really exciting time for the band. When it went on sale we were two weeks into a nearly two month long tour, which was definitely our longest ever string of dates - and in places we had never been to before. We were getting a really good reaction from the new crowds too so it was a great time. We did a load of gigs with the Frank & Walters and they're brilliant blokes so that was a good laugh.

Our distribution deal fell through at the last minute which was unlucky, so the only place the hard copies of the single were available was in Fopp, and we reached number 6 in their independent/unsigned charts and got a place on the Camden Crawl from it so we were happy with that but it would've been nice to have it stocked everywhere. We also joined the digital age and it was quality to see our artwork up on iTunes and the like - it also did very well on the downloads front; the internet is such a great tool for bands. We had high hopes and the distribution thing was a major setback but we're happy with how it all went looking back.

To promote the single you famously played two gigs in one night on St. Patrick's night in London, how did that go?

That was the highlight of 2007 for me. We were back in London after about 10 dates. The first of the two gigs was in Metro on Oxford St with two of our friend's bands and the second was with the Franks in the Luminaire in Kilburn. The Luminaire ran out of Guinness & Magner's (Bulmer's), which I thought was some pretty impressive stereotype fulfilment!! Yeah, a quality night for lots of reasons.

You signed with Coercion records in late 2006. Given the trouble some Irish bands have had with UK based labels recently (TURN and Future Kings of Spain for example) were you worried about signing the deal? How have they helped you out?

If anything those band's experiences made us more wary of signing anything that didn't suit us or would tie us down to anything we weren't happy with. Coercion got onto us after we won the Xfm Unsigned Artist of the week in 2006. They're a really small label but the guys work hard and are passionate about music. I think that's exactly what we needed at the time. After years of releasing stuff DIY it's nice to have someone into your music who is working hard alongside you.

What can CLUAS readers expect from Pilotlight in 2008; I believe a debut album is in the pipeline? If so, when is it likely to hit the (perhaps digital?) shelves?

Yeah, 2008 is going to be all about getting our album done and dusted, it's been a long time coming so we're really looking forward to it. We're doing it with David Odlum who has made some brilliant albums with Gemma Hayes, The Frames and The Redneck Manifesto so pretty excited about working with him too. To top it all we're recording it in France so we get a bit of a holiday! We're not really sure on release dates and the like yet, just want to focus on making the best album we can and then we'll look at the details.

When it comes to making the music, what is the song-writing dynamic like within Pilotlight; how do the songs evolve and when the songs are being created is it always with an album in mind?

Usually we write pretty organically, for want of a less clich? word, in that someone brings a melody line or a beat and we jam around that to form the root of our song, we tend to work around that until we find what we feel is right. We spend a lot of time editing then. Vocally, Gav will often get a melody line and theme from the jams but will usually go away and work on the lyrics. On other songs like 'South', Gav brought a nearly complete song to the band and we changed and added bits to get what we play today. We tend not to write with releases or albums in mind but you never know the future might bring some nice prog concept albums!

Your music has been described as 'celestial' and comparisons have been drawn between Pilotlight and Coldplay. How do comparisons with other bands make you feel; would you rather stay clear of the whole 'Play the Game - 3 syllables, sounds like' box that music critics like to place bands in?

It'd be nice to avoid lazy comparisons but I can understand why people make them. Most people want to know what bands are similar so they can make a judgement on whether they'll potentially like a band or not, we all do it, unfortunately for a band like ourselves, a comparison to someone like Coldplay really only gives one side of the story and probably does us more harm than good. We appreciate them as good songwriters in the way U2 and REM are so its not an insult to be compared with them but I think, yes, we've a cleaner side to our sound but we've also a lot of harshness & contrast and other qualities there too that don't get picked up in the comparison.

Comparisons that look nicer on paper do us no favours too, a promoter here billed us as 'Ireland's answer to Radiohead' and although flattering caused a bit of a backlash and more damage than good I would think.

25 January 2008 sees you playing Whelan's to promote the download only release of 'Headstart'. Are you excited about your first ever download only release?

Very much so. It's weird not to be running about trying to organise record shops to stock us, odd how technology has moved on. 'Headstart' was one of our favourite recordings from the last time we were in the studio so we're really looking forward to seeing people's reaction to it.

Are you looking forward to coming home and playing in "New Whelan's" for the first time?

Can't wait! When we were home at Christmas we all had a peek around and it looks great. It'll be good to be back in the old local! Also as I said earlier, doing the gig with Tidal District and Le Galaxie just makes it all the better, not only good friends but quality bands as well.

Finally, projecting forward to this time next year, what will you see as having been a good 2008 for Pilotlight?

As long as we have our album that we can stand by and be proud of in our hands everything else will be a bonus!

Interview conducted by Steven O'Rourke
To download 'Headstart' visit www.downloadmusic.ie or text 'music 585' to 57501 (cost 1 euro)
Check CLUAS.com's 2004 review of (Pilotlight's former incarnation) Polar live in Dublin with 66e.