This article was first published
on CLUAS in April 2006
Beijing Beat: Asian Rock Festivals
Mark on the growth in serious rock festivals across Asia...
Never fertile territory for rock festivals, Asia has suddenly got a bunch of them. The Fuji Rock Festival is one of world's largest but now it's got Bangkok, Busan - and a few in China - to compete with.
---
Mark Godfrey, a CLUAS writer since 2002, is now based in China from where he files the 'Beijing Beat' column

Poodle perms just don't suit Asian hair. But don't tell that to Thai rock god Pod. His band Modern Dog made history by being first onto the main stage for the first rock festival in south east Asia, the Bangkok 100 Rock Festival. That feat has made him an unlikely hero in Thailand's recent push to become a destination for music tourists.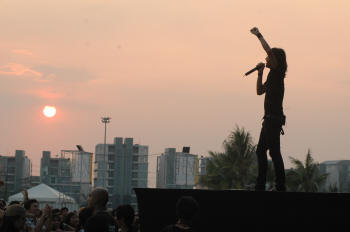 By hosting the two-day film festival - and a film festival running the same week - Bangkok is hoping to get known for more than go-go bars and balding, obese western men. Sharing a bill with the likes of Franz Ferdinand and Oasis on a sultry Saturday afternoon in February was an honour, said poodled Pod, chiselled jaw and big hair lending him a look not unlike Axl Rose in the latter's glam-rock days. "Very few Thais have the possibility of going to Japan for Fuji Rock or to England for Glastonbury, so this festival is such a fantastic opportunity for us."

The majority of the audience that poured onto the huge car park down at Lakeside in Muang Thong Thani near Bangkok's airport however probably never heard of Modern Dog. The band belted out classics such as "Busaba" and "Taa Sawang" to a thin phalanx of locals while most festival-goers bought beer and CDs or enjoyed the many food stalls set up near the festival entrance.

The crowd that showed up in Bangkok could prove the realisation - or undoing - of the dream long held by festival organiser Dave Mclean. The Scotsman's UK-based promotion company, Riverman, found the sponsor, whiskey firm 100 Pipers, to underwrite some of the festival costs. They then struck up a partnership with a Thai promoter, Modern Entertainment, to sell the event locally. Booking the artists got easier when sexually ambiguous rockers Placebo, managed by Riverman, agreed to play. Little wonder the London-based trio, with a new album due in March, got the honour of closing the festival, but the band which drew the largest crowd was Britpop progenitors Oasis.

The sight of a turban-wearing Sikh pressed against the crowd barrier during the Oasis set suggested the band had local fans. Below a linen-white headdress he wore a black t-shirt bearing the band's moniker. But behind the rocking Sikh, bronzed backpackers looking like left-over extras from Leonardo di Caprio's Thai-made film, the Beach, outnumbered local rock fans by two to one. Curious and balding western rock fans from an older school hung back with young Thai girlfriends looking uncomfortably unprepared for the joys of festival slumming in high heels and hot pants.

Aside from complimentary tickets allowed to some locals, the pricing system for the festival discriminated in favour of more moneyed foreigners. While most international rock festivals allow entry to the front-of-stage area to the first fans into the ground, prices for Bangkok 100 tickets varied according to where you were located. Thus those paying 3,000 baht for a one day ticket got up close to the stars while a 1,000 baht ticket holder had to make do with watching the screens on either side of the stage from a hundred metres away, even if the moshpit was sometimes ridiculously empty.

Despite organizational glitches and early problems with the sound system, the Bangkok 100 Festival ended a well-attended success. Organizers are already promising a bigger line-up for next year. Sunshine and cheap food and board make Thailand a dream destination for rock fans but that may trouble someone much more practiced at catering to Asian rock fans' needs, Masa Hikada. The legendary impresario runs Japan's Fuji Rock Festival, the largest in Asia since its 1997 debut. Foreigners make up 10 percent of the masses pitching their tents for Fuji every year but Masa Hidaka is worried more about local rather than regional competition from Bangkok. "Right now is the festival bubble time, everyone is having a festival, but that won't last. Small towns in the countryside are making their own small festivals because the music market is small."

Hikada modelled his festival on Glastonbury, a legendary gathering of bands and fans on a farm in the English countryside. After a shaky start - a typhoon closed the last day of the inaugural festival in 1997 - the Fuji Rock Festival has established itself as Asia's finest, drawing leading bands from Europe and the US - strangely, there were no American bands playing Bangkok 100 - onto a huge three-day line-up every year. Held on a ski resort high in the Naeba hills three hours north of Tokyo, Fuji has been a financial and an artistic success, and given Japan's homegrown rock fanbase, organizers don't rely on visitors for ticket sales. But what Hikada doesn't want to see in Japan is the scenario British fans face each summer: three festivals - Reading, V2, and Leeds - run at similar times with similar line-ups. "It looks like a good system and its profitable, but it's killing the future because everywhere it's the same band."

And what of China? Beijing has been growing its laudable Midi Festival, an annual outdoor showcase of local talent, but Ian Brown, who also played the Bangkok 100 festival, was chosen to headline last year's inaugural Beijing Pop Festival. The event was a local attempt to compete with Fuji, suggests Jason Magnus, the young managing director of Rock For China Entertainment Ltd, who wrote a thesis at Harvard University on the impact of Bob Dylan on modern society before coming to China and dreaming up a Chinese Woodstock. "We look to the appreciation of an event like Glastonbury or the Lollapalooza tour or Ozzfest," says Magnus, who believes the festival, which began as a one-day event, will balloon into a two or three day weekend festival of rock, jazz, hip-hop and reggae.

There have been attempts before at rock festivals in Greater China. The over-budget and much-maligned Hong Kong Harbourfest spread the action out over a week of outdoor shows on a huge stage in 2003. Many sniffed at the invitation granted to bubblegum pop stars Westlife and Tatu but Neil Young and the Rolling Stones satisfied seasoned rock fans. Supergrass pulled out of the headline slot of Rockit, an indie festival organized for Victoria Park the same week but that festival, which showcased more local indie rock talent too, has since been fleshed out into an annual two-day-two-stage event with credible bands like Wales-based Feeder and The Cooper Temple Clause headlining. Hong Kong's order is well preserved however - headliners must finish their sets by 8.30pm.

North east from China, Korea too has been trying to get in on the act. True it's by the sea, but somehow the prospect of groups like Swedish metal band Dark Tranquility (who topped the bill here in 2004) as headliners at the Busan International Rock Festival is unlikely to get many rock fans packing their bags for Dadaepo beach. Birof, as it's known to locals, will "help Busan develop a variety of cultural activities that enhance its status as an international city," organizers hope. Networking with the likes of Dark Tranquillity and fellow headliners Austrian "melodic metal" outfit Edenbridge will also "help local musicians to elevate their skills and entrepreneurs to build up their businesses," say organizers in their mission statement. Sounds like too much bad hair in one place.