Scene @ Cluas

SCENE - the section of CLUAS aiming to bring you info on the what's emerging on the Irish music scene. Plenty of new Irish artists are constantly appearing but, unfortunately, quantity does not always make quality. Many bands can be filed under 'Irish Rock'. While it has its good points, Irish Rock's day has passed, has it not? It is time for something new! Luckily for those who seek it, innovation is present, and over the coming months CLUAS with the help of Niamh hopes to further the cause of those bands who dare to be different. Bands and artists who excite, who are a little different to the rest and who don't list U2, Oasis and the Verve as their main influences. If you know of any new band or artist that you think should be featured here let us know through our feedback page!

---
Scene # 5 - Feb. 2000

Welcome to Scene 5. At last I've found some new music to rave about! I've made two great discoveries this month, and I can finally relax in the knowledge that there is still innovation to be found on this island of ours. The first discovery is singer-songwriter David Kitt, who I saw play in Whelan's. You can read the full review of this gig here on Cluas, but the gig deserves a mention in Scene also. Be warned, with his brilliant songs, excellent voice and delicate music, Kitt is one to watch.
The second discovery is in the form of Dublin band King Sativa, definitely the best new band I've heard in ages. King Sativa double as Bob Marley tribute 'Catch a Fire', and while their influences are obvious, they are no cover band. The band incorporate reggae into their rich and powerful musical blend, forming their own unique style. Cheeko, King Sativa's singer is a brilliant frontman with an incredibly strong and moving voice - at times, especially on the slower songs, his voice is reminiscent of Ben Harper's. The band's lyrics are also intelligent and uplifting, a great example of this comes on their five song CD sampler, in the form of a song called 'Bullshit' - "We don't need this bullshit / work yourself to death / cause you're slaving for the wealth that controls you / we're only here for a while / you can't take nothing with you / but your soul to the other side".
There has been a much needed increase in the number of gigs happening in Dublin over the last month or so. Among the gigs which stood out for me was Brando's packed headliner in Whelan's. Brando deal in pop-rock with a twist. They have some incredibly strong songs, such as 'Beauty and the TV', and are very well practiced and tight. They have an excellent frontman in Elton - a dreadlocked and dreadfully thin young man with a top class sense of humour. The band are beloved by Phantom FM. I am undecided as to whether this is a good or bad thing, but seeing as Phantom are still stuck in an era of The Stone Roses and Blur, it's probably bad. It's no reflection on the band though, indie wannabes they are not.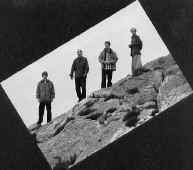 The second of the Cluas.com gigs was another standout for me. The sound was good, the audience decent, and the vibes were all positive. Subrosa blew me away once more with their dreamy sounds (check out their MP3 tune 'Seen it on well' here on CLUAS). The ever improving The Nude also played a powerful gig.

Before I sign off, another band worth a mention are Pugwash who I saw play in the Isaac Butt last month. A listen to their debut album 'Almond Tea' reveals yet another fine, if somewhat unoriginal, young band. The band deal in short poppy tunes, with catchy hooks and melodies. The songs are well crafted, and are very pleasant and listenable. At time they plod along a little too much for my liking, making them a bit dull and sleepy. The inevitable Beatles' reference has to come into play here also, being far too obvious to ignore. Some of the songs too remind me an awful lot of Lir around the time of their 'Nest' album. All in all this is good, but not ground breaking music.
Niamh Grimes

Check out previous issues of Scene from July '99, Aug '99, Oct '99 and Jan '00


Don't forget to check out the CLUAS Discussion Board.