David Kitt / Salako
Review of their gig in Whelan's, Dublin, 5 Feb 2000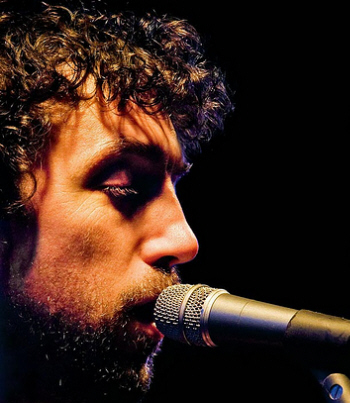 Dublin singer-songwriter David Kitt has been the subject of many a favourable whisper lately and, as I had yet to catch him play live, tonight's gig was laden with great expectations for me. Kitt was the main reason I went to this gig, although he was not headlining in his own right, but was supporting Salako, label-mates with the mighty Belle & Sebastian.
All I had heard by Kitt prior to the gig was his contribution to the mini-album 'Come up to the House', on which he appeared alongside The Frames and Jubilee Allstars. The song he recorded for this limited edition release was 'Hope St', a melody-laden tune that served to whet my appetite no end.
David Kitt's performance exceeded all expectations. His songs are beautifully structured, and his lyrics intelligent and heartfelt. Kitt has a sweet, velvety voice that falls on untrodden ground somewhere between Jeff Buckley and Nick Drake. The music soars with lush melodies, helped along by delicate guitars and a xylophone, among other instruments. Kitt played with his backing band for the first time tonight. They were unrehearsed but gelled brilliantly nonetheless. The highlight of Kitt's set was his last song when his kid brother Robbie sang backing vocals for him. Another one to watch. Overall David Kitt's music is powerful and has the power to tug at the heartstrings. Believe the hype.
Salako were bound to be hard-pushed to keep up the high standards that David Kitt had set with such ease. In my eyes they failed pretty miserable in their task. A pure indie band, they played short, loud three minute pop songs, with a few strange samples thrown in. The music itself was strong, but Salako's singer was a disappointment. He had a weak, nondescript voice which failed to reach any heights whatsoever. In some cases, a singer with a weak voice can add character to a band, but here it was just annoying. Salako's case was not helped by the fact that most of the crowd had left after David Kitt's set and those remaining paid no attention to the band. The frontman became increasingly angry with the crowds apparent lack of interest, but the band plugged on until the end of their set nonetheless.
Salako were altogether uninspiring. Perhaps they are better in the studio but I for one won't be rushing to buy their CD to find out...
Niamh Grimes