Ben Harper & the Innocent Criminals
A review of the album 'Burn to Shine'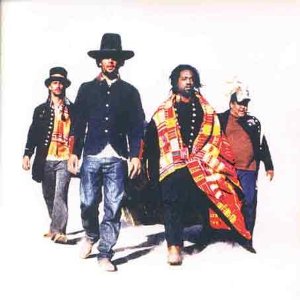 You can normally be pretty sure about two things as an artist gets on in years. Firstly, anxious to maintain a loyal fan base, each new release is a reworked version of the previous - they don't want to scare the kids away (or the money, to be more precise). Secondly, whilst early on in their careers they invited you into their lives and failed relationships, they later often decide to become a spokesperson for the world's problems (cue The Cranberries "Zombie" right here)
Reverse the system for Ben Harper. In the beginning, there was a touch of the Marley - topics including Rodney King ('Like a King'), the neighbours fighting ('Mama's Got a Girlfriend Now') and polluting corporations ('Excuse Me Mr.'). At the same time the production, whilst of undoubted quality, rarely strayed from a basic acoustic format.
Yet with 1997's 'The Will to Live' there came the introduction of the Innocent Criminals, and an immediate change. Songs like 'Roses from my Friends' and 'Glory & Consequence' got closer to the man himself, and the music started to show signs of a Hendrix influence on tracks like 'Faded'. Still, he wasn't yet the finished article, for we got a disjointed affair, two halves in competition. What could we expect from Album No.4?
A war-like drum roll opens 'Burn to Shine' and straight away we're in unfamiliar territory - Ben Harper having relationship problems? Through the first five tracks the soul is bared and fears revealed, summed up aggressively in 'Less' ("I could give you more, but you still wouldn't be happy") but mournfully in 'Please Bleed' ("? is this really living? Sometimes it's hard to tell").
From there we're off the beaten track, and way off the usual route. 'Suzie Blue' wouldn't be out of place on 1920's Coney Island, and 'Steal my Kisses' is only a few yards short of the Jackson Five - Ben Harper in a playful mood about love? (it must be 1999). Something has definitely changed in the man's life. The title track 'Burn to Shine' is next - a strong Country & Western influence, with necessary references to Nashville, Tennessee. Similar to Steely Dan, but good. Really!
The absolute highlight of the album is 'Show Me a Little Shame'. By now Ben has the stage to himself, crooning into the mike with a torch song to rival Sinatra, Dean Martin, in fact anyone you care to name. A woman is smiling somewhere, you can be sure.
This abundant creativity is probably best explained by a recent interview, where Harper stated that he'd open for anyone from Marilyn Manson to Metallica. By the closing three tracks he is back to familiar territory and you almost feel cheated - this is, however, being greedy. How far can we expect the man to go, after all?
Such a shame we will have to wait to find out.
Ian Stalvies
See also the other Ben Harper albums:


'The Will to Live' (1997)


'Fight for Your Mind' (1995)


'Welcome to the Cruel World' (1994)