Subrosa
Download their song 'Seen it so well'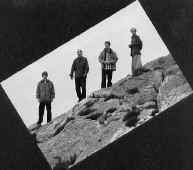 Colbert, Harnett and Slevin formed the band whilst in school together in early 1995. Soon after the 3 piece became four when Daniel Jacobson was recruited to play keyboards. The band's style developed over the next 3 years, during much of this period the band was fronted by a mal vocalist. This partnership came to an end in early 1998. The 4 original members continued to making music whilst trying to find a vocalist that would compliment their original sounding style,. It wasn't until late '98 that they were introduced to Sarah Verdon. They exchanged thoughts and ideas on music and there was plenty of common ground. Instantly they formed a strong musical bond which has developed ever since. The Subrosa sound is a strong mix of contemporary styles converging in a mix of organic electronic and timeless guitar music.

Subrosa are:


Mark Colbert - drums / percussion / vocals


Sarah Verdon - vocals


Paul Slevin - bass


Barry Harnett - guitars


Daniel Jacobson - keyboards / guitar / percussion
Options to Download the Song
File Format
Download link
File Size
Approx download time (56k modem)
MP3
Download now!
2.3 MB
6 minutes
Windows Media
Download now!
1.2 MB
3 minutes

Note: If you have trouble downloading, 'right-click' the download link above and choose 'Save Target As' from the menu (in Netscape choose 'Save Link As')
Options to Stream the Song
| | | |
| --- | --- | --- |
| File Format | Streaming link | Notes for 56k modem users |
| MP3 | Listen now! | Not recommended for 56k (or slower) modems |
| Windows Media | Listen now! | Recommended option for 56k modems |

Note: Allow us to state the obvious but to listen to the songs on your computer you'll need to have a PC that has a soundcard and speakers (or headphones). The PC will also need to have a Media Player installed. If you don't have a media player you can download one - for free - from Microsoft.


Not sure what to do? Hit the button below for answers to FAQs (Frequently Asked Questions)