Matthew Ryan
Review of his album 'Concussion'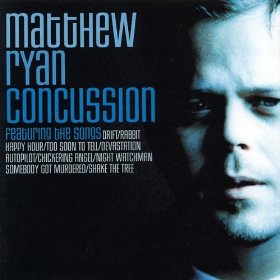 Since Ryan Adams earned his stripes as a solo performer the floodgates have opened for singer/songwriters all over America to finally achieve a wider audience. Due to Adams' success music lovers have been discovering (or rediscovering) such talented individuals as Paul Westerberg, Jesse Malin, Ben Kweller, Jeff Klein, Josh Rouse, Steve Earle, Chris Mills, Jeff Finlin and Matthew Ryan.
Concussion is Ryan's third album and easily his most desolate and bare. The flawless opening trio of 'Drift', 'Rabbit' and 'Happy Hour' set the tone for what is primarily a starkly beautiful affair. In keeping with his two previous records, 'Concussion' shows Ryan to be world-weary yet hopelessly romantic; constantly searching for some hope in all the badness that surrounds him.

Only on 'Night Watchman' and 'Somebody Got Murdered' (an excellent cover of the Clash classic) does Ryan raise his voice above a hoarse whisper. Done badly, this sort of record can be a rumbling monotonous bore but done well (see Springsteen's Nebraska or Ghost Of Tom Joad) it can be a deeply moving and hypnotic experience. In 'Concussion' Ryan has delivered what may be the perfect morning-after album and an effective lesson in the power of quiet music.
The lyrical tone is one of little conventional joy but of people who learn to find joy in what they have. The subtle melodies and slight elements of shade that randomly punctuate the darkness are impossible not to enjoy. Amongst the highlights is the lazy laidback drawl of 'Autopilot', probably the best example of the depths of Matthew Ryan's talents.
In the words of Paul Westerberg: "sadly beautiful".
Mark Grassick

To buy a copy of this album on Amazon just click here