Jesse Malin
Review of his debut solo album 'The Fine Art Of Self Destruction'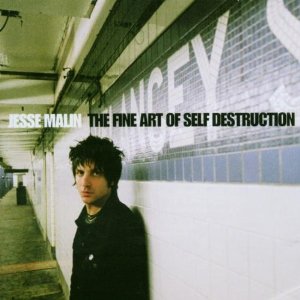 Music anoraks may remember Jesse Malin from his days as frontman of hardcore punk band D Generation but 'The Fine Art Of Self Destruction' is a far cry from back then. These days Jesse has mellowed out and put his charismatic croak to better use in his lovelorn tales of New York. It is refreshing to hear an album from a New Yorker that isn't at all centered on the events of 9/11. Fine Art is a strange place where such eclectic influences as Simon & Garfunkel and The Ramones come together to produce a hard hitting yet softly yearning album.
Malin's is a strange world inhabited by drag queens, Harlem mamas and lost loves. Ryan Adam's rough and ready production and the 'live in the studio' feel have rendered Fine Art an immediate and raw affair that some will love but others may find hard to swallow. Jesse's voice may not be to everyone's liking but fans of such luminaries as Paul Westerberg, Pete Yorn and Ryan Adams will find much to enjoy here.
Of the harder rockin' tunes T.K.O and Riding On The Subway have infectious beats and Jesse's very visual writing style help the songs to take on a life of their own. Malin really comes into his own on slower numbers such as Brooklyn, Xmas and the sublime Solitaire leaving the listener with no doubt as to the promising future ahead. Especially with such high recommendations as Ryan Adams saying 'His songs are so good they hurt my feelings'.
Raw, affecting, beautiful and highly, highly recommended.
Mark Grassick

The Fine Art Of Self Destruction is released on 'One Little Indian Records'


Check out the CLUAS review of Jesse Malin's second album 'Heat'.