Jesse Malin
A review of his album 'The Heat'
This firecracker singer/songwriter from New York first burst onto the scene with a bit of help from Ryan Adams (who produced his debut album 'The Fine Art Of Self Destruction' and booked him as a support act). Adams even went on to say that Malin - who previously was in D Generation - was a genius, 'He scares me he's so good'.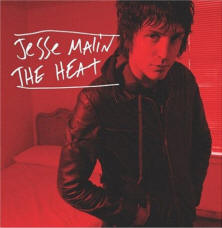 'The Heat' is his follow-up to his well recived debut and it does venture near that 'difficult second album' territory. The best thing about Malin is his songwriting, despite his stories being very similar on both albums. Nonetheless, he still manages to keep the listener engaged. The excellent 'Mona Lisa', the tender 'Arrested' and the emotion gripping 'About You' stand out as the album's better tracks.

The pitch of Malin's vocals stays consistently the same, which can be annoying on first listen. But this is an album that does grow on the listener. It edges away from the aggressive upbeat tone of his debut album to concentrate more on his emotive, churning lyrics. 'Silver Manhattan', mixed by Ryan Adams, is an elegant sliver of soft rock. The emphatic 'Swinging Man' shines with some great lines ('Buddy Holly told me you can't save rock n' roll, It's only for the lonely boys and girls').

The Tommy Stinson (Guns'n'Roses) assisted 'Hotel Columbia' threatens to explode into a scintillating rock tune but remains below the surface as an average song. This degree of substandard songs carries right through the album's entirety and in return fails to deliver enough catchy pleasing tunes that one suspects Malin is more than capable of producing.

Yes, this is his difficult second album but it does have some gems hidden. Its just unfortunate that it takes numerous listens to discover them. Malin could be the next Springsteen with his impressive storytelling ability but he needs to work a bit harder in the production process.

Overall 'The Heat' is average.

Gareth Maher

Check out the CLUAS review of Jesse Malin's debut album 'The Fine Art Of Self Destruction'.