This article was first published
on CLUAS in November 2006
French Letter: Prix Constantin
Aidan on France's most prestigious contemporary music honour...
Aidan Curran, a CLUAS writer since 2004, is now based in Paris from where he files the 'French Letter' column

France's most prestigious contemporary music honour, the Prix Constantin, was presented at a ceremony in the Olympia theatre in Paris on 15 November last. The prize, named in memory of a late French music industry talent-spotter, is awarded annually to an artist or group who has come to prominence during the year. The ceremony consisted of a concert featuring ten short-listed acts, before the announcement of the winner and successor to Camille, last year's laureate.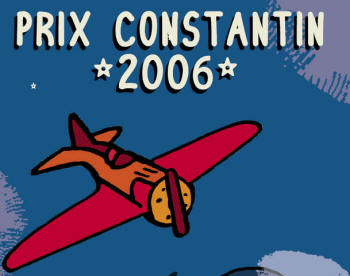 Unlike the Mercury or former Shortlist prize, the Prix Constantin is specifically awarded to the artist and not the album. Also, where it's (theoretically at least) possible for an act to win the UK or US prize more than once with different albums, the winner in France is by definition a new act and therefore can't win it again.

The idea of an 'emergent' act is somewhat loose for the purposes of this prize, though. One of the nominees was none other than Phoenix (no strangers to this column), included on the strength of their fine 2006 release 'It's Never Been Like That' - their third album. No problem there, says the Prix Constantin panel - another of the prize's rules states that the nominee must not have sold more than 75,000 copies (gold disc status) of any of their releases to date. Sadly for them, Phoenix have never been anywhere near that kind of recognition in their home country - like Air and Daft Punk, they are probably better-known and more loved abroad. And no, Phoenix didn't win.

Interestingly, the prize doesn't actually stipulate that the artist or group must be French in origin or even in performing language. The only condition is that the act must have made their album in France on a French label. Thus, in the spirit of cross-border pan-Europeanism and all that, it's (again theoretically) possible for an Irish act to come to France, set up magasin here and pop off home again with the Prix as a classier souvenir than the usual smelly cheese or Eiffel Tower keyring.

French-based Irishman Perry Blake can't win the prize, though, because he has already picked up two gold discs for his collaboration on the 1995 album by '60s icon Francoise Hardy. However, that album bagged Blake a Victoire de la Musique (the French equivalent of a Brit or Grammy) - go on Ireland, and all that.

This year's shortlist did indeed feature a non-French act, a German/Nigerian singer called Ayo whose summertime jazz sounds not too dissimilar to that of Corinne Bailey Rae. Ayo sings in English, but with idiosyncratic phrasing that just sounds contrived and annoying. No prizes for her language ability, nor for her music - she didn't get the award either.

The offbeat vocalising and playful songs of last year's winner inspired French record companies to find their 'new Camille'. So, in 2006 there has been a plethora of facsimile female singers dropping their surnames and going overboard with the 'lovable' kookiness. This year's prize shortlist featured three female singers from various points in the chanson francaise spectrum: Olivia Ruiz, favouring a strangely infantile singing voice and music-box backing sounds; Clarika, a more conventional singer in the poppier acoustic-guitar end of the traditional French sound; and (our favourite) the brilliant cabaret-pop of Anglo-French pianist-singer Emily Loizeau. But prize juries tend to avoid repeating themselves (the two consecutive Mercury prizes to guitar bands being an aberration), and none of the three chanteuses won the prize.

A refreshing break from the traditional chanson style came from a man called Katerine (it's his surname; first name Philippe) who seems set on dispelling all preconceptions about Frenchness. He certainly doesn't dress with style or sophistication - he goes for pink and white ladies' clothing, feather boas and a Bobby Charlton combover. His music (kitschy electro-pop) also stood out for its gentle shock-the-old-folks anarchy. However, his tunes don't compare to the superior electro-pop of Parisian duo One-Two (not shortlisted) and it's hardly art to the taste of France's humourless cultural clique, so he was never going to win. And he didn't.

All of which leaves us with that unique and almost ironical characteristic of French music: the spoken word. While there's a noble tradition of street poetry in the UK, for instance, no one really considers it 'music' - surely no contemporary musical scene other than the French one holds such reverence for lyrics almost to the exclusion of musical content.

Two spoken-word artists made the shortlist of ten acts. Grands Corps Malade ("big, sick body") is a tall, thin young man who, since damaging vertebrae in a swimming pool accident as a youth, depends on a crutch for movement. He emerged from the poetry slam circuit with a body of contemplative texts on abstract themes like life and love set to rather bland backing music.

Abd Al Malik, on the other hand, trades in the more traditional French rapper stock of social commentary. Author of a book called "May Allah Bless France", his Sufi faith (a mystical branch of Islam) is reflected in his work, which he sees as 'a means to change mentalities'. His texts are politically aware but certainly not radical: '12/09/2001' briefly mentions the bombing of Baghdad but moves on to lament the murder of Dutch film-maker Theo Van Gogh by a Muslim extremist. The accompanying music is funky and fresh - despite the performer being closer to spoken word rather than rap rhythms, fans of organic rap groups like The Roots will be drawn to his sound.

And so it was Abd Al Malik who was awarded the Prix Constantin - the first non-white, non-rock, non-chanson francaise winner in the award's five-year history. Cynics might deride the political correctness of the decision, social commentators can decipher his lyrics to find out his politics, and non-French music fans may wonder at how the country's premier music prize can be won by someone reciting poetry in his speaking voice. But there you are - France just has a different idea of music than the rest of us. Sometimes it's like living in a foreign country.