This article was first published on CLUAS in April 2006
French Letter: Perry Blake
Blake's Heaven in France? Aidan on the French success of Irishman Perry Blake...
Aidan Curran, a CLUAS writer since 2004, is now based in Paris from where he files the 'French Letter' column

I braved the paddywagons around the Sorbonne last week to head to my favourite Parisian book- and record-store, Gibert Joseph halfway up the boulevard Saint Michel. There, I found a display for the new release by an Irish singer described on his album's promo sticker as 'le dernier dandy romantique' ('the last romantic dandy'). This wasn't the new Van Morrison record, then.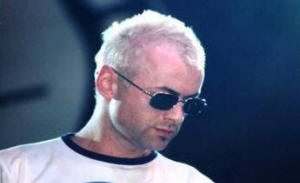 "The Crying Room" is the sixth studio album by Perry Blake, a Sligo-born singer who has built a solid following around Europe from his base here in France. Before you start racking your brains as to whether he's one of the Tubbercurry Blakes or maybe something to Mossie and Noreen Blake out the Ballyshannon road, his real name is Kieran Gorman. The future P. Blake Esq. spent part of his formative years in London before releasing his eponymous debut album in 1998. Though concentrating on the continental market, he returns to Ireland regularly for recording and shows.

Anecdotal evidence has it that Blake is more famous in France than in Ireland. I recall a Sunday Times interview in 2004 where he told how he was unable to walk down the street in France without being stopped by fans. Now, my French friends in Dublin hadn't heard of him, nor have my friends here in Paris. Perhaps I haven't been hanging around the right boulevards. Nonetheless, the French music press are generally enthusiastic about Blake; "The Crying Room" has received excellent reviews in widely-read magazines like Les Inrockuptibles, Téléama and the French edition of Rolling Stone.

Far from the Jack L/Neil Hannon 'romantic dandy' suggested by his album's blurb, Blake cuts a serious figure. His music calls for descriptions like melancholic', 'ethereal' and 'atmospheric' - all immaculately-crafted synth soundscapes and breathy vocals similar to David Sylvian's solo records. Lyrically he tends towards the Met Eireann school of writing about stars and skies and days and nights, a bit like the TV3 weather forecast presented by Keats and Shelley. In general, think of Damien Rice crossed with Tindersticks (the latter's Dickon Hinchcliffe is a regular Blake collaborator), with the emphasis on the former's artistic pretensions.

Blake's hand-to-the-brow sensibility is mother's milk to a certain constituency of thirtysomething French music fans who gush about 'serious artists' and sniff at commercial 'pop'. The 'Téléama' review was particularly flowery, gently chiding Blake for his previous 'prétensions radiophonique' ('radio-friendly efforts') before lauding his new record as 'une ode à l'espace nu, au temps suspendu, aux ciels de traînée ('an ode to unadorned space, to suspended time, to skies of vapour trails') - a fellow weather-forecaster, by the looks of it.

In this, of course, there are plenty of fellow travellers in Ireland. So how come Blake remains low-profile in the Shangri-la of serious singer-songers? Well, as Blake told the American webzine 'Chaos Control' in 2003: "Most Irish bands/songwriters seem to treat me as some kind of outsider who doesn't play by their rather insular rules. To be popular in Ireland first is usually a sign that one is doing something wrong. There are exceptions, of course, Damien Rice being one [...] I think generally the French like more melancholic music [...] but mainland Europe has always been quick to champion less mainstream artforms than, perhaps, the UK."

There you are - if you're Irish, put down that Perry Blake record and just back away from the counter!