Tindersticks
Review of their gig in the Olympia, 10 Sept. '99
Whatever about a new, improved digital sound, Tindersticks didn't seem too chuffed with the sound engineer for most of the night. Certainly, the vocals were criminally underplayed. Nevertheless, it was a triumphant occasion.
Galway lads Cane 141 were superb support, with their gentle wall of sound, complete with trumpet and gorgeous, humble vocals, reminiscent of a young Michael Stipe in places.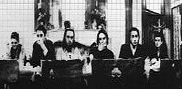 Tindersticks' Stuart Staples looked a bit worse for wear on arrival but whatever his physical state, it didn't affect his performance. Watching him sing live is an oddly painful yet thoroughly exhilarating experience. He puts every inch of his soul into each note and the result is a tortured, glorious release. His unique, longing vocals alongside Dickon Hinchcliffe's heart-wrenching electric violin and a new organ sound filled the Olympia with simply beautiful music, mainly from new album "Simple Pleasure".
"If You're Looking for a Way Out" was a cannonball of hectic emotion, perfectly arranged, with a stunning melody from Staples. "If She's Torn" was sparse, mournful and fragile. An aggressive, mesmerising version of "Bathtime" from the exquisite "Curtains" LP was another highlight.
Two encores later and Tindersticks had matched their unforgettable Temple Bar show in '97 and enhanced their status as one of the most defiant, timeless and original bands in music today.
Ollie O'Leary