This article was first published
on CLUAS in August 2006
French Letter: Paris Calling
Aidan looks at the latest crop of Parisian bands angling for indie stardom...
Aidan Curran, a CLUAS writer since 2004, is now based in Paris from where he files the 'French Letter' column

'Paris Calling' is the name of a 2006 compilation album and a subsequent showcase gig in the French capital. As the Clash-alluding title suggests, the half-dozen or so bands involved see themselves as parishioners in the broad church of punk and new wave - and mass is in English. Photos are black-and-white, blurry and taken either in a crowded venue or against a blank wall. Essential paraphernalia includes badges and mocked-up vinyl pressings of their singles. So far, so NME-in-2003.



Many of the acts tell a similar story; how around 2002 they were awoken from their slumber in leafy suburban Paris by the rolling thunder of the new British and New York guitar bands. These bands, then, are among the first generation of those inspired by the Strokes, Libertines, Franz Ferdinand and so forth. However, in most of their songs you can hear how they've worked their way back to Sonic Youth, the Ramones, the Modern Lovers and the Velvet Underground.

In general the New York sound and attitude (jagged riffs, skinny-fit clothes, calling your band Brooklyn after the NY district) wins out over that of London (pub-rock rhythm, drunken bleariness, calling your band Brooklyn after the first Beckham child and heir). There's very little that you could call 'French-sounding' about this music, apart from the occasional French lyrics and one almost surreal 'un-deux-trois-quatre' count-in. It's clear that these bands have ambitions of breaking London and New York, hence the dependence on English as their working language.

So, who are the bands to watch in this new scene?
The Parisians
Despite their matter-of-fact name (warning: they aren't in any way the French equivalent of The Dubliners), this band's Libertines/Babyshambles-esque earthy and sweaty rock could be straight from the pubs of London. Alan McGee was believed to be interested in offering them a deal - although another current rumour has it that the band has in fact broken up.

Listen to: 'Why Choose One Side' www.myspace.com/parisians
Plastiscine

Formed after meeting at a Libertines gig in Paris, Plastiscine write catchy US-flavoured guitar-pop along the lines of Le Tigre and the B-52s. They have an accomplished producer, Maxime Schmitt, who has worked with Kraftwerk. Most of all, though, they are the four photogenic über-cool French girls that all indie-boys dream of. Stardom beckons. Oh, and their songs are deadly.

Listen to: 'Twist Around The Fire' www.myspace.com/plastiscine
Second Sex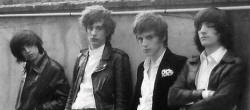 Ah, a Simone de Beauvoir reference - this must be Paris! Debating in the Sorbonne, philosophising in smoky Latin Quarter café, being in a garage-punk band which look like the Ramones and sound like the Ramones - the French intellectual connection is obvious, really.

Listen to: 'Lick My Boots' www.myspace.com/secondsex

Brooklyn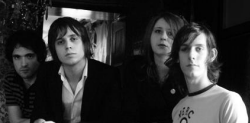 Their New York name is a bit misleading; they sound the most Britpop (ask your granddad) of these bands. The intro to 'Heart Lies' even sounds like 'I Will Follow' by U2 - a punk-influenced new wave band too, as they've spent their last two albums trying to demonstrate.

Listen to: 'Heart Lies' www.myspace.com/aboutbrooklyn
The Rolls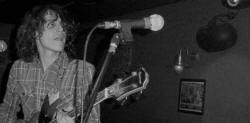 Another trio, this time sounding a lot like Sonic Youth. Three guys, yet singer Thomas Darmon sounds like Kim Gordon on 'Time'. Perhaps they need to broaden their record collection just a wee bit...

Listen to: 'Time' www.myspace.com/lesrolls
The 'Paris Calling' compilation on Because Music/Bonus Tracks Records is probably available from the usual online music outlets, or in most French record stores if you happen to be in Paris any time soon. More information (in French) and links (in the international language of clickable 'friends') can be found at www.myspace.com/pariscalling