This article was first published on CLUAS in Dec 2005
Beijing Beat: Women On Top
Hang On The Box, one of the best known acts in China to be driven by women...
Mark Godfrey, a CLUAS writer since 2002, is now based in China from where he files the 'Beijing Beat' column

The contender swaggering down the lane drops his swagger to crouch in the reflection offered by a restaurant window. He's either a stylist or he's trying to look like Julian Casablancas. Hair fixed into the fastidiously-messy mop perfected by the
Strokes
frontman, he resumes his swagger, into the 13 Club, where about 200 people are swaying and shouting through a set by Caffee-In, a Sino-Japanese outfit specializing in jump-along funk. Melody: they have it in buckets. The guitarist is Chinese, the other have been a year together making music in Beijing.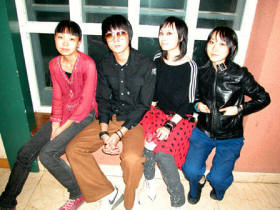 Compared to the easy melody of the support act, the 'shanghai, Shanghaiiii" echoing from a bullhorn is a rude introduction to experimental rockers Hang On the Box. But that's the band most of the crowd have tramped up to Wudoukou on Beijing's northern limits to see. With a prettiness that's more sexy than feminine, vocalist Wang Yue was born to rock. She pouts and stomps through an hour set, carrying and shaking the mike stand in between turns on lead guitar.

Leaving the 13 Club for the icy night air and a ten minute walk down a lane smelling of stale beer and pee, we end up sat around a battered table in an all-night restaurant serving mutton skwers and meat-heavy Inner Mongolian favourites. It's past 2am, the chairs clank on cracked tiles, the tables are dog-eared and the wait staff would patently rather be somewhere else. But it's the only dinner Hang On the Box can afford with the grand sum of RMB50 each of them gets for the gig. That's barely five euros.

Wages split, drummer Sheng Gy assumes her role as unofficial spokesperson - she speaks better English - but this is a democratic ensemble and she glances regularly to Wang Yue and keyboard/guitarist Chen Yong Gang, the only male in the band. He joined late in 2005, explains Sheng, before rattling off a well-worn history of the group. Hang On The Box came together when classmates Wang Yue and bass player Yi Li Na met Yang Fan in a music shop - she was checking out the imported bootlegs CDs the other two were selling in a record shop in Wudaokou, Beijing's university district. "We were playing Should I Stay Or Should I Go" by the Clash," interjects Wang Yue. "Yang Fan gave me a Lucky Strike cigarette,".

It was sisterly solidarity right off. The two girls had been turning heads with their dirty jeans and black boots. The boys they met were put off by the classic punk and rock they played, says Wang, so they stuck to music. Yang Fan took the drums, Yi Li Na played bass and Wang Yue was an obvious choice for singer and guitarist. And the name? Yi Li Na, who's from Inner Mongolia, dreamt the gods told her she must name the band Hang On The Box.
A legendary debut: Screaming it out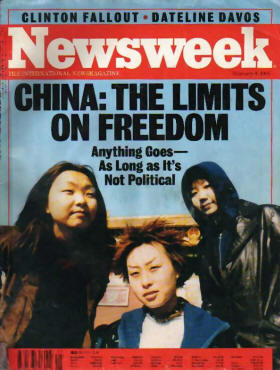 The humid night of July 20th 1998 counts as a milestone in the formative days of Chinese rock. "We are Hang On The Box" screamed Wang Yue at a bemused crowd on the floor of the now defunct Scream Club, Beijing's legendary first rock club. The three girls opened with No Sexy" and "Asshole, I'm Not Your Baby" and the audience went crazy. Before the year was out Hang On The Box would appear on the cover of Newsweek magazine, the first rock band in China to get the honour. A year later, a chance meeting at a bus stop - "Wang Yue said I looked like a rock star' - gave the band its youngest member, sixteen year old Sheng Gy, who took over the drumsticks from Yang Fan.

Their attitude may have something to do with what they sneeringly refer to as the "Motorola ad episode". The tech-making multinational engaged them to play Foxy Lady for a TV advert but later ditched them for a more cuddly pop band. Today the Jimmy Hendrix song has become the band's signature tune, lyrics growled and twisted by Wang Yue. One of the most confident rock stars on stage, Wang goes shy with comparisons to Hendrix - she certainly got his natural stage presence. Was she born to be a rock star? "If I answer this in a Chinese way, I'd say I don't know. But in the Western way my answer is: Of course!? But Asian women aren't supposed to rock: Wang Yue claims the girls were attacked for being in a band when they started out. "Now more and more people love us, not like before." And they've already outgunned China's old rock guard. "Many old rock stars feel we have passed them by already. They may not say it, but they know it." China needs HOTB, says Sheng Gy. "I feel in the Chinese music circle, nobody appreciates music... If you have [been] playing for long time, [whether] your music is good or shit, you are the king anyway."
Songwriting and citing Clockwork Orange
Wang vents as much fury in her songwriting as she does in her performances. All HOTB songs are written and performed in English. "The tone of English is suitable to our melody," she says. "We feel uncomfortable with Chinese because the pronunciation doesn't fit our melody." Life fatigue and the tried and tested relationship between man and woman - the girls have since met like-minded men - have also fuelled her writing. "When I'm angry with something I take my lyrics to reflect that rage. I think that will influence many people." But many songs by Wang - who has also pinched lines from Stanley Kubrick's ultra-weird film A Clockwork Orange - bitch about the ordinariness of other females. A new song called No More Nice Girl says "the nice girls don't play rock, so we don't need more nice girls."

Strange then that the each band member is keen to stress they're still nice girls to their parents. As school kids the girls got 'so much pressure" from parents, teachers and peers. "But we couldn't do anything else," says Wang Yue. Their parents have since been won over. "They were worried. They thought we were in trouble, that we were doing bad things. We came home late every night when we were playing concerts. But we never lied to them, we have remained good children."

Penniless for their art, the band is nothing if not bluntly honest. Rock music remains underground in China. "Our Chinese record distribution company offers no royalties - they pay a lump sum and keep the copyright. But we couldn't choose anything else." Some money comes from the "five or six? CDs they sell at every gig, "mostly to foreigners." And yet though funds are limited HOTB have never been far from the studio. In May 2000 "Yellow Banana" and "I'm Not Sexy" were released in China by Scream and by Benten in Japan. The band's first album, recorded in 2000 was picked up by Japanese label Benten - since the songs were in English, no one would touch it back home - who took the band on Japanese and US tours. The following year they recorded a second album "Di Di Di" for Benten and Scream. In October 2003 "For Every Punk Bitch & Arsehole," a compilation released by UK label Cherry Red featured one unreleased live track. In September that year the "Foxy Lady" EP - three new songs and a cover of the Hendrix song - signalled a departure towards a new sound that takes in krautrock, new wave and electronica. The band is currently working on their next record.

They've been learning from time on a Japanese label. "The Japanese work hard and keep improving on their music careers, that's what I admire a lot. In China, people are still conservative. Hang On The Box has been beyond them for 10 years. Maybe we should wait for 10 years, then they would discover us for real." Beijing, is a "fun city now," interjects Wang Yue "?but we want to concentrate on abroad. We have real fans there." In 2001 the group made its first foray out of China, touring Japan at the invitation of Benten. In 2003 their first US tour took in nine cities, including a stop at the prestigious SXSW festival in Austin, Texas.

A second US tour in 2004 includes taking part in the CMJ Radio Festival and a date at New York's famous Knitting Factory. That tour, supporting Shonen Knife, taught them how to deal with fatigue and hecklers: Wang Yue takes "a bunch of vitamins and many costumes," to keep going. And they just ignore the hecklers, says Shen Gy: "on stage, the instrument is in our hands and everything belongs to us at that moment, so who would care about them?? The tour with Shonen Knife also taught them more about stage lighting - too bright on the last gig - and harmony, adds Wang Yue. "My favourite part is when the song from beginning to the last is all harmonious, and at the last part when we're almost finished, I can keep a pose with the melody so we disappear together."
Back out on the road
Hang On the Box's future is in its foreign fans. The Chinese old school of rock is "'shit forever, and I want to kill them forever?" explains Sheng Gy. "That's why we want to put more promotion abroad." The band's latest demo, recorded in April 2005, introduces a new blend of self-titled 'future rock.' But now they need a new company to take their third album a worldwide smash. "We feel we don't suit in Asia, the rock scene is not that good here, right now. We're trying to find a new company who would really promote us." That and a chance to tour Europe, would do nicely. "Coz the people there, they really need us!? Meantime they're getting by on gigs and wages as freelance tour guides and editors. Wang Yue writes about fashion. The girls still seek out new sounds from the bootleg CD shops that brought them together as high school rebels - but HOTB has already outgunned many of the bands on international labels. "We're better than most of them" why do people still like to listen to Linkin Park and The Vines"" asks Wang Yue. "'some bands are too shit but they would get out their CD anywhere. We're a lot better than them, but we can't get out our new CD. That makes me feel sick."