Club Sult: North Strand Klezmer Band & Liam O'Maonlai
Live at Bull and Castle, Dublin, 8 February 2007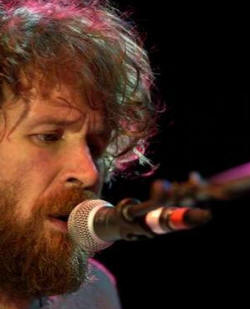 Review Snapshot:
Walking in off the street on a wet winters day in Dublin I was tired, and without expectation. A quiet pint, some end of week banter, and the North Strand Klezmer Band: Happy days. Things didn't quite turn out as expected but, in the oft-misquoted words of Jesus Of Galilee, "Goddam what a night!"

The CLUAS Verdict? 9 out of 10

Full review:
Things got off to a shaky start in a deserted bar with a secret door and mysterious signs as Gaeilge, but soon, mercifully, sidestepped into one of the best nights I've had in this city in far too long. We had stumbled upon Club Sult and the launch of Gaelchult? Ltd's Spring Events Programme, (I picked this up later from the Internet, my Irish is apparently a lot worse than I thought, and someone didn't let my brain in on the more Guinness, more understanding rule.)

First up were the house band, and damn they were good; concertina, button accordion, fantastic rhythm guitar and Ireland's most beautiful fiddler. The music was close to perfect, played with a dexterity shadowed only by the evident joy. The rhythm guitar shone in the limelight, setting the stage for raucous solo with a deft touch. I don't know a jig from a reel, this may have been the Walls of Derry bottoms up at a local shebeen, but any musicians of this talent playing with such evident enjoyment (dig the tossed curls, stomping feet, and puppeteer accordion) is always going to be good. As the band brought the night home with a second set, good it certainly was.

When Liam O'Maonlai took the stage on Thursday night he was an unknown entity to me, a name at the back of the brain, but now my list of greats is one longer. His presence was profound; a quiet figure steeped in old time glory, seeping an empowering charisma comparable only to that of The Band. Sound check "one-dh? segued into sean-n? enchantment, dirty Irish blues (goddam, that tune!), bodhran and feadan. All the while the big voice rumbled, sparkling with magic and wit. I understood not a word, but fell in love. In 30 short minutes he paid tribute to generations of tradition with honesty, and drove it home shining.


The North Strand Klezmer Band were the best band in Dublin, now they are better. The addition of a fiddle brought a new dimension to the sound, another avenue for flair, and a handy dig out with the cupla focail. It didn't always sit perfectly, unsure of its place in the sound, but that will come in time, and then this band will be even better.

The link between performance and crowd was somewhat subdued, dampened by an impenetrable no-mans land of badly positioned tables, yet still heads rolled. I've never seen this band and not been impressed, writing about the music is next to impossible. It's a good time joint kicked out with skill, love and passion. It is everything music should be and you'll dig it or you'll be dead. Go see them. Soon. I'm watching "No Direction Home" as I write, and in the words of some random Dylan fan from 1965? "Not many pop groups like that."

Club Sult is on every second Thursday, if tonight was any indication, it is Dublin's best kept secret. I was still turned on the next morning, what a night!

Daragh Murray

Check out Daragh's August 2006 review of theNorth Strand Klezmer Band live in Dublin.