Idlewild
Dolan's Warehouse, Limerick, 11 September 2002
It seems Idlewild can do no wrong at the moment. The summer release of their third album, "The Remote Part", has not only being critically acclaimed, but will also probably be their most commercially successful to date. It may seem strange to many that they have decided to support Coldplay on their current tour, but even stranger is their choice of venues for the five-date warm up tour. Two of these dates were in Ireland: Tuesday night in Galway (Cuba), with tonight's show in Dolans. Shocked as we were to find out that Dublin had been by-passed, we were delighted to see yet another scoop for Limerick.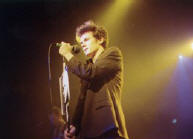 Warm up tour or not, Idlewild gave it their all over the ninety minutes or so that they performed for. Despite looking worse for wear after their previous night shenanigans in Galway, which resulted in guitarist Rod Jones injuring his wrist, the band bounced on stage with their opening number, "Little Discourage". This immediately squalls any suggestion that tonight's show was going to be a workout for solely new material. Instead what follows is a gig firmly balanced between material from their new long player, and previous releases "Hope Is Important"(1998) and "100 Broken Windows"(2000).
Next up is the band's first top ten single "You Held The World In Your Arms", which frankly sounds better live when spared the massive production that features on "The Remote Part". The "sold out" sign surprisingly doesn't hang on the door tonight, leaving the front of the warehouse a little bit bare. However, by choosing two of their most well known tracks to start with, much of the crowd moves closer to the stage. It's a smart move from Idlewild, allowing them to command their audience's attention for more delicate songs like "I Am The Message". From "These Wooden Ideas", to "When I Argue, I see Shapes", Idlewild churn out their songs in the melodic fashion that we expect. Calls from the crowd for "Roseability" are duly replied, with front man Roddy Womble prancing around the stage, gripping the microphone stand in a manner akin to one of his idols, Michael Stipe.
Idlewild finish with the epic current single "American English". With the lines "sing a song about myself / keep singing the song about myself / not some invisible world", "American English" is surely set for anthem status amongst Idlewild fans.
Idlewild return for a few encores, including a Teenage Fanclub cover (featuring Turn's Ollie Cole on backing vocals). The night is brought to an end with the title track from their current LP. Alan McGee infamously remarked that Coldplay is music for bed-wetters. On the basis of tonight's show, Coldplay fans better beware, as the magnificent live performance of Idlewild is set to upstage them.
Ciaran Ryan

Check out a review of Idlwild live back in 2000