Idlewild
Temple Bar Music Centre, Dublin, 27 April '00
Idlewild rock. The modern day understanding of artistry is some white boys with guitars staring at their shoes while doing it. Just with the music maaan. Idlewild take one step forward and scream your name out. And they do. There too many quiet bands out there. Idlewild are white and they play guitars but they certainly do not stare at their shoes.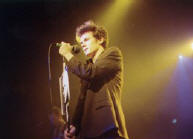 The most outstanding feature of the pre-gig atmosphere is the crowd itself. Predominantly made up of rockin' Central Bankers (you know the crowd I'm talking about - the ones who you see every Saturday morning loitering under the C bank). There is a sense of energetic eagerness which has become quite absent in recent years.
The band take the stage. And they take it by storm. They kick off with a rip-roaring "A Little Discourage". It is an average Thursday night for the Music Centre's management who have put just three security people in the venue itself. They have a big problem coping with the moshers and crowdsurfers because the kids are loving it. The whole thing is beautifully out of control. They continue through the whole gig at about 200mph and don't slow down, throwing in tracks for the new album as well as "When I Argue I See Shapes", "I am A Message" and "A film for the future" from the debut LP.
The beauty of this band is that they're refreshing. Refreshing because they don't have a light show, refreshing because they don't shoe gaze, refreshing because of aggression, natural entertainment value and because the band are enjoying themselves. The music is a development from the last album. They have an extra guitarist on stage. They're tighter and Woomble is starting to become a very good lyricist.
The sound is not what it should be. But the band are playing so hard and Roddy is spitting out his lyrics with such aggression, that it's no longer about the clothes, the popstar pout, the light show - it's about a band who are really into what they're doing. And about the crowd who are into the band and not afraid to show it. This is about the music maan. Go and see. Pay them some respect.
Idlewild they exactly what it says on the tin.
Colm Downes