Hard Working Class Heroes 2004: Day 3
Various venues, Dublin, 5 September 2004
Pity the American tourists wandering in a state of bewilderment through Temple Bar on this Sunday afternoon with loud music coming from behind what seemed to be every building. They may have retreated to a nearby pub to down a pint of the black stuff but, luminous armband in hand, I was in a position to answer those vital questions: what was that noise? And, where was it coming from?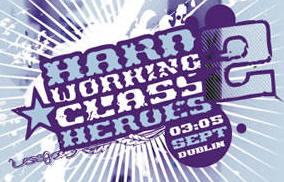 The sound that was turning so many foreign heads was Nina Hynes. Past the barriers and into the Meeting House Square where a large enough crowd were sitting, Hynes was blasting out some new tracks along with her backing band The Husbands. With crashing guitars, computerised electro beats, galloping drums and her high-pitched vocals, songs like 'If Only Suicide Was A Way Out' and 'Way To Go' may have captured the crowd's attention but, overall, I thought Ms. Hynes was not her usual impressive self this Sunday afternoon.

After a lot of tuning and preparing, Stars Of The City eventually started their set. As they served up 'Code', you couldn't help but snigger at the irony of the guitarist's t-shirt (which said 'No More Heroes') considering the band's name and the festival they were playing in. There wasn't much about their music to report on except that songs like 'Want Some More', 'Go Away For A While' and 'The Wait' could have done with improved verse structure and bit less of the stop-starting. Even the best song of their set - 'Everything Changes' - needed a little more than just a crunching guitar combo.

Sack were next up under the September sun. A spoken-word lecture about banning music introduced them but after their first song maybe the band should've taken heed of that lecture. The lead singer looked like Ben Elton in a hat and sang without any credible vocal capabilities. 'Babyface' tried hard to be a cheerful song but their set was boring and tedious. The only glimmer of talent they showed was on 'In Flight' where some intriguing guitar work and serious drumming succeeded in providing some excitement. Mediocrity ran through this performance, especially when the lead singer used his mini keyboard to evoke sounds more commonly heard aboard the Starship Enterprise.

Marked down by many as the band to catch during this weekend, the crowd were all standing when the Republic Of Loose arrived on stage. It turned out, even though they were all standing, the crowd were very inactive and didn't respond to lead singer Mick Pyro as much as he might have hoped. The sound quality was superb with every winding riff and calculated note being projected across the square. Pyro himself was on top form with no mumbling into the mic but just excellent singing. They played two new songs, which sound pretty good but it was the closing tune 'Spacey Love' that had the crowd captivated. This band is just top class.

It was over to the Temple Bar Music Centre then for a change of scene. And it was a case of Cue the lights. Cue the smoke. Cue the music. For the 66E were about to detonate with a set of ferocious Radiohead-like rock. The most noticeable thing about their set was how good the band is as a unit. Front man Ed Cullen does become a major focus point but the band members are crucial to their sound. Due to them playing a very good set, their forthcoming album 'Fall Down 7 Times?Stand Up 8' should further heighten their profile.

Onto Eamon Doran's, where Ellison 9 were trying their best to entertain. Not much was happening though as lead vocalist Derrick Devine did what he could with the band's dark melodic songs. The violinist was pretty impressive but all of the guitar work seemed bland and unimaginative. 'Shifty Eyes' was the highlight of their set with its pugnacious energy.

A short walk over to St. Michael's Church was needed to get away from the dark hole that is Eamon Doran's. Then again, good music was needed more than anything. And it was Jeff Martin who became the unlikely saviour of all things musical. There are elements of Ed Harcourt, Ron Sexsmith and John Mayer all in his sound but Martin still manages to surprise his audience with his own style of experimental folk/indie pop. He is assisted on stage by drums, guitar, trumpet and a mini mouth organ, which all contribute to his sound. On songs like 'Things Change', 'Bizarre Love Triangle' and 'Plays Music' his sound combines haunting pieces of purified excellence with touchingly brilliant lyrics. It was a slow but indeed very admirable performance.

The music had stopped. The weekend had come to a close. And HWCH 2004, with its diverse line-ups and ambitious programme, can certainly be deemed a success. More of the same next year, please.

Gareth Maher



Check out the CLUAS review of some of the Friday night HWCH 2004 action.