Jeff Martin
Listen to his song 'Tired'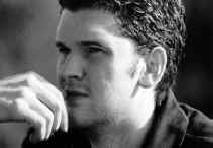 The track featured here was featured on the 7? single that Jeff Martin released in early July 2001. You may have heard the songs from the 7" as it has been getting airplay on Phantom FM, Anna Livia as well as XFM. At the time of writing Jeff is gearing up for the release of his debut album 'Still'. The release will be marked by a launch night at The Shelter (Vicar St) on Friday 31st August at 8pm. This is Jeff's debut headline performance and will feature support from Dot Creek, Richard Egan & DJ Stephen Shannon. All those who pay at the door will receive a free copy of the album on CD.
Drawing from the sounds of the underground, his music has more in common with Dublin's underground scene than the city's long established singer/songwriter community. Jeff Martin has maintained a modest profile to date, by playing some low-key acoustic gigs (including the CLUAS.com webcast in March February 2001). His songs are honest, emotive and downbeat. They comprise evocative lyrics and a unique guitar style that veers from delicately sparse to intricate.
For more information check out www.jeffmartinmusic.com or e-mail info@jeffmartinmusic.com
Options to Download the Song
File Format
Download link
File Size
Approx download time (56k modem)
MP3
Download here!
1.6 MB
4 minutes
Windows Media
Download here!
0.8 MB
2 minutes

Note: If you have trouble downloading, 'right-click' the download link above and choose 'Save Target As' from the menu (in Netscape choose 'Save Link As')
Options to Stream the Song
| | | |
| --- | --- | --- |
| File Format | Streaming link | Notes for 56k modem users |
| MP3 | Listen now! | Not recommended for 56k (or slower) modems |
| Windows Media | Listen now! | Recommended option for 56k modems |

Note: Allow us to state the obvious but to listen to the songs on your computer you'll need to have a PC that has a soundcard and speakers (or headphones). The PC will also need to have a Media Player installed. If you don't have a media player you can download one - for free - from Microsoft.


Not sure what to do? Hit the button below for answers to FAQs (Frequently Asked Questions)