Hard Working Class Heroes 2004: Day 1
St. Michael's Church, Dublin, 3 September 2004
So much for a smooth start to the weekend for this writer. First up the previously arranged press pass took a bit longer to pick up down at the the buzzing HWCH headquarters and then, having secured it, I couldn't find the entrance to the venue. After venturing past Cow's Lane (and witnessing someone get mugged for their shiny new iPod - blame has to fall on those white earphones) and circling the venue twice, it was time to ask for help. Eventually I found a polite doorman who checked for wristbands and held the door open.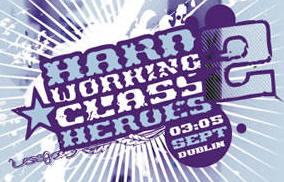 Inside, purple tinted lights roamed under the stained glass windows and soon Sean Needham ambled on stage with a full band behind him. He opened with an unnamed song that flowed like a sweet summer stream threatening to cascade into a forceful river, but never did. On the other hand, the upbeat and slick guitar work played of 'Only Think Of Her On Sunday' worked well with the song's honest and emotional lyric. A rollicking version of 'Hey Juliet', an acoustic 'Give Praise' and an excellent 'Throw It To The Wind' all found a spot of a set that deserved many more spectators than the few who did turn up.

The mysterious figure of Jenny Lindfors was up next. As soon as she broke into 'Play It Away', silence fell. The silence I can only assume was due to everyone in the venue marvelling with the same thought - 'what a voice'. Her vocals are her best instrument, she has the grittiness of Patti Scialfa, the elegance of Joni Mitchell and the guile of Aimee Mann, but Lindfors is much more than just a choirgirl. With her left-handed guitar strumming, moody keyboard playing and intelligent song writing, she is a whirlwind of musical splendour. Cellist Lioba Petrie helped transform 'Steep Fall' and 'Lovestage' into atmospheric gems while conga player Cion O'Callaghan submitted some extra rhythm to 'Looming'. The zenith of Lindfors' set came in the shape of the closing tune 'Fading Phase', where just a simple flick of the her guitar strings brought a pleasing sound on this heart clenching song.

Declan O'Rourke is one of those artists who is relatively unknown but still has a growing fan base who know all of his songs. Kicking off with a superb version of 'Your World' and a beautifully textured 'One-Way Mind', O'Rourke won over the audience straight away. Like the majority of singer-songwriters he has good guitar skills, unleashes enchanting melodies and has a charming stage presence. Unlike the majority though, he has brilliantly-constructed, intelligently-scribed songs that reveal the most honest and rich imagery. Songs like the folky 'Last Night In A Dream', 'Galileo' with its cherished simplicity and the powerful 'Along The Western Seaboard', were divine examples of his song writing ability. With songs like these, performed with fuelled enthusiasm, it won't be long before O'Rourke receives the nationwide attention that he deserves.

A small but appreciative audience remained in the dimly lit church venue to witness the quiet grace of Ann Scott. She started off with a slow burning 'Wilbur Clown' on the electric guitar, which seemed to disinterest some people. She then treated the few who stayed to some new tracks. Each song contrasted the other; one had a sleepy grunge atmosphere while another had a creakingly beautiful aura to it. Her set seemed to be cut short but she still managed to entertain with some effective songs.

Gareth Maher



Check out the CLUAS review of some of the Sunday night HWCH 2004 action.