Aimee Mann
National Stadium, Dublin, 1 July 2002
News Flash: the National Stadium has had a face-lift! All I can say is that seeing is non-believing. Quite simply, it looks pretty much identical to the way it did the first time I saw a gig there more than a decade ago. I arrived towards the end of Damien Rice's support slot who seems to be going down a treat. The venue itself is packed to the rafters and is exceptionally hot and sweaty. A quick adjournment to the bar (no alcohol allowed in the main venue, bah) and we take our seats for the main event. Boy oh boy is it hot, there is a heat haze hanging over the crowd as Mann and her four piece band stalk onto the stage.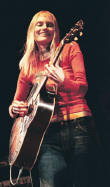 She opens with "Choice in the Matter" quickly followed by "Calling it Quits" and pretty soon two very annoying things become apparent. Firstly, it is really bright in the venue, which isn't conducive to generating any sort of atmosphere. Second is the sound, which is frankly appalling. It is so muffled that it feels like you are stricken with a really bad dose of 'flu. This improves marginally as she works through some songs from her forthcoming album, including the title track "Lost in Space" but even as the quality improves, the volume does not. Extra decibels are lacking to the extent that you wonder if there is some restriction in place as the venue is in a residential area. There is not a murmur from the crowd, who, I assume like me are straining to hear the gig at all.
The set is partially save by some fine acoustic renditions of "Red Vines", "4th of July" and "Save Me" but when the band kick in again we are back to square one. "I should Have Known", probably her most guitar driven song which has lifted the roof off every one of her gigs I have seen previously is just a damp squib. Tragically, the band are really going for it but their energy is never transferred to us, the paying punters. Mann struggles on and gives a four song encore including "Deathly" and the beautiful "Wise Up" from the film Magnolia but what should have been a triumphant live showing for a fantastic artist just never lifts off. Anyone who had seen her last show in Vicar Street would have been sorely disappointed. Well actually, I suspect that most people left sorely disappointed because after ninety minutes in the cramped plastic seats, everyone had developed arse ache of enormous proportions. This is a very long way from the Stadium's glory days where the likes of Morrissey, Crowded House andSteve Earle ripped the place up and left your ears ringing for days.
So to recap, a fine artist playing to a large crowd of rapt fans gives it everything she's got and probably left scratching her head wondering why the weren't dancing in the aisles. The reason is a stifling, uncomfortable, acoustically poor venue. The verdict: Aimee Mann is an excellent live performer - just choose the venue well.
Brian Farrelly

Click here for a more positive review of the same gig.