Steve Earle & The Dukes
Solana Beach, California, 10 February 2005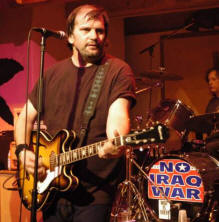 Review Snapshot:
Steve Earle has not been silenced by the election results in the US. Earle's passion and commitment are in full force, and his music and performance have never been stronger. His shows are a welcomed rallying point for some of us who aren't ready to surrender.

The CLUAS Verdict?
9 out of 10

Full review:
I was recently in Ireland and got a taste of the anger at "America" for re-electing President Bush. Well, 51% of Americans re-elected the president. Steve Earle is holding rallies of the proud 49% that are The Resistance to this American nightmare. His recent show in San Diego was a call to action: to end the Iraq war, to fight for unions, to resist the attack on human rights and civil liberties. And it was fun.

Mr. Earle has a large repertoire of political songs that get you fired up, feeling proud, ready to raise some hell in the name of hope and justice.

Earle & his very strong band, The Dukes, played most all of the songs on his current album, The Revolution Starts?Now, as well as several other rousing, and sometimes uncomfortable, songs that took us from the cynicism of Amerika 6.0:
"Nowadays it's letters to the editor and cheating on our taxes
It's the that best we can do"
...to the activist's hope of 'The Revolution Starts?Now':
"The revolution starts now
When you rise above your fear
And tear the walls around you down
The revolution starts here
Where you work and where you play
Where you lay your money down
What you do and what you say
The revolution starts now"
Along the way he invokes Woody Guthrie & the American anarchist Emma Goldman, promotes unions, "Anyone who's against unions never had a dangerous job", and rants about the war, suggesting Texas (his home state) as our next bombing target (ooo-rah!). Earle is adamant that we-the-people can stop this American administration from continuing its war crimes, and he's using his pulpit to rally the forces of resistance.

Earle also uses other artists' songs to great effect. This night he ended the main set with a one-two punch of The Beatles' 'Revolution' (wonderful to hear played live and loud), followed with 'The Revolution Starts?Now'. He opened the second encore with George Harrison's 'Isn't It A Pity' and later gave us an emotional release with a sing-along to The Stones' 'Sweet Virginia' ("Got to scrape the shit right off my shoes").

It was a grand night of (mostly) high purpose, strong conviction and certainly fun. I hope it stimulates some action amongst the proud 49%.

John Ford