This article was first published on CLUAS in Apr 2002
A Conversation with Martin Finke
Cormac links up with Mr. Finke on a recent visit to Ireland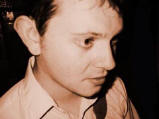 The German-born, Connemara-raised, and (until recently) Boston-based songwriter discusses his latest album, 'Let It Ring', the craft of writing songs, and the long breath of Van Morrison.
---
Who is Martin Finke?

I was born in Germany and moved to Connemara, in and around Clifden, when I was young. Then I went to college in Dublin and got a guitar. I used to watch my roommate play, and then I decided to do it for myself.

Neil Young songs, Smiths songs, Buffalo Tom songs served my apprenticeship. Then I went to Grenada for a year in 1995 and soon as I got there I just got an urge for writing. I used my grant check to buy a guitar and I used a Dictaphone to record myself. It was an exchange year and I was on the piss every night, so I'd come home in the early morning and write lyrics then. And it moved from there.

The description of your work on your website is that of 'poetry set to music'.

That's actually what a friend said. That's the way I work because I have a full time job, working nine or ten hours a day in an office, so there's always pressure to write - to lash them down on paper. I completely lost the knack of relaxing, sitting down with the guitar. I go to the pub on afternoons, or weekend, or anytime I'm on a long bus or train journey, and I write down reams of lyrics - stream of consciousness stuff. When I have time I pick up the guitar, bang out some chords, and record the music. Then I check my book for a chunk of lyrics and try to curl them around the music.

To be honest, I place lyrics as prominent. Not that the music should always be so simple, but the controlled, concentrated part of the process are the words. Then I start to play it - once you play the song live it picks up its own momentum.

You play regularly in Boston?

I do the odd open mic. It's very time consuming to do them, because I'm working a lot and there's so many of them in Boston. That's where I met Josh Ritter.

And where did Glen Hansard and the great transatlantic friendship come in?

This story's been told a bit. I was at an open mic, before I knew Josh. Glen was in town and I met up with him. Josh stepped up played his songs and Glen said 'check this guy out'. We did, and I met up with him a few months afterwards, when Steve Fanagan and I suggested that Ireland would be a good place to play. Eventually he got invited over, and the rest is history.

Back to the point, your new album, 'Let It Ring' - how did the recording process work?

I did it all from scratch, at home. There are two drums loops on the album but the rest is all my own work, my own playing. Because I work in a haphazard, hectic way, I just pile on guitar and pile on vocals and the drums and the bits and pieces - to build it up. That said, when I play a live gig I change completely, and play with just an acoustic.

I'm fortunate because the guitar I use has a real deep bass sound, which is perfect for me because I tend to focus on the bassline in my songs - it changes the mood of the song and it really affects the listener. Actually, the My Bloody Valentine record 'Loveless' is one of my favourites, it has the simple chords but with soaring basslines. When I'm writing I find that focusing on the bass and working melodies into that throws the song into a whole new, more sensitive, zone.

'Let It Ring' was recorded at home on your PC.

Yeah, I got a new computer and borrowed some software - a bargain bin version of Cakewalk - and got a couple of mics. I spent about a grand and a half on it. So I recorded 'Let It Ring' in my bedroom - a very still cluttered room. I used the software to reverb vocals, and mix volumes and levels for the songs.

So, having handcrafted at home, will the next recordings be in the studio?

I want to offer more to the listener so when I come back to Ireland in a couple of months I'm going to decide who I will work with. Then I'll head to a studio in the winter time.

From a music point of view, is Dublin a better place to be, compared to Boston?

Completely. I'll be doing work from home [as a translator] - and I should have more time to work on new recordings. I can't wait to get back to Ireland.

On the subject of Ireland, and regarding influences, you've cited Van Morrison as an influence on your work - yet it's hard to imagine to artists so far apart at first glance.

Completely. Van's influence is not so much in the lyrics as the way he sings - the way he delivers, more from a live point of view. I like watching people improvise and ad lib and I love the way he takes a word and repeats it until he runs out of breath. My favourite record is 'Veedon Fleece' and most of that was recorded in just one take.

And today's Van?

I lost interest after 'Into the Music' [1978]. I went see him play in '94 and he just had Bryan Kennedy singing most of his songs and it was horrible, a fall from grace.

A large part of Van's oeuvre was music based at a place, to recall or evoke a particular area or time. You've carried some of this into your own work.

Writing in Boston I do tend to focus on home, which is Ireland - Dublin or Galway or wherever. 'Raincloud', off the new album, was like that. That song focused on a particular place, in Galway, and the mood of a particular evening.

I'm really interested in the notion of islands, and in particular Achill Island - the wind and the Atlantic. The feeling of that place influenced part of 'Let It Ring', despite the fact that I was thousands of miles away.

Finally, are you happy with the new record?

I am, but of course I'd remix it a million times if I could! As I've performed the songs they've changed a lot, and I've no problem with them continuing to evolve?

Download a free MP3 track by Martin Finke in the CLUAS MP3 section.