This article was first published on CLUAS in June 2004
Hey Jim
The influence of James Joyce on Popular Music...
Trieste, 1915 and Ottacaro Weiss is chatting with his friend James Joyce. The Irish author picks up his acoustic guitar and begins to strum. Weiss is "scandalized" by Jim's guitar playing and, in that instant, Joyce becomes the world's first punk rock guitarist. Seventy seven years later, Irish rock band Therapy? release 'Potato Junkie' which contains the lines, "I'm bitter / I'm twisted / James Joyce is fucking my sister". Joyce has lost none of his power to shock.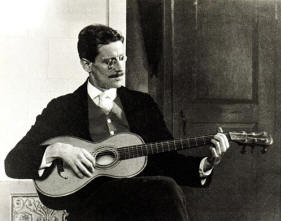 As Ireland celebrates the Centenary of Bloomsday it is interesting to note that Dublin's most famous writer is as much of an inspiration to succeeding generations of musicians as he is to academics and novelists. Many of popular music's most famous artists have drawn from Joyce in a myriad of ways. Barry Moore took the surname of Leopold Bloom to complete his own moniker Luka Bloom. Jefferson Airplane drew extensively from 'Ulysses' for their song 'Rejoyce' which contains lines such as, "Molly's gone to blazes / Boylan's crotch amazes". In 1982, Louis Stewart composed a jazz suite, based on Joyce's 'Ulysses', for the Cork jazz Festival where it was performed in front of a live audience and filmed by RTE for a subsequent broadcast.

Dance music diva Amber drew inspiration from Molly Bloom's soliloquy in 'Ulysses' for her raunchy techno tune 'Yes' from her 2002 album 'Naked' which features the lines, "I put my arms around him / Yes / And draw him down to me so he could feel my breast". Kate Bush went one further and set Joyce's original text to music but, when the Joyce estate refused her permission to release it that way, she re-wrote the lyrics to keep the rhythm and feeling of the words without breaching copyright. As she explained to a bemused audience in 1989, "The song was saying 'Yes, Yes' and when I asked for permission they said 'No! No!'".

Lou Reed, who is as synonymous with New York as Joyce is with Dublin, made direct reference to 'Ulysses' in his song 'My House' where he sings, "My Daedalus to your Bloom / Was such a perfect wit". Van Morrison, not to be out done, offered the following summary of Joyce's career, "James Joyce wrote streams of consciousness books", in his song 'Summertime in England'. In fact, Van strongly identifies with Joyce and in his song 'Too Long In Exile' he compares himself with the great writer when he says, "Been too long in exile / Just like James Joyce, Baby". The legendary country songwriter Jimmy Buffet is also an admirer of Joyce and feels that he lives within the novelist's imagination as he states, "My life's an open book / By James Joyce and Agatha Christie", on his song 'If It All Falls Down'. The Pogues drew inspiration from Berenice Abbott's classic 1929 photograph of Joyce to create a montage of both themselves and James, in the same dress and pose, which appeared on the sleeve of their album 'If I Should Fall From Grace With God'.

But the most interesting James Joyce related music project is the forthcoming Fire Records album release 'James Joyce Chamber Music Project' involving artists such as Mercury Rev, Peter Buck, Lee Ranaldo and Jeff Tweedy. Syd Barrett had previously taken, "Lean out of the window, Golden Hair", from Joyce's 1907 poem 'Chamber Music' and used it as the first line for his song 'Golden Hair' but this album draws from the complete work. Each artist was given one of the 36 verses from 'Chamber Music' and asked to set it to music. The final result is sure to "scandalise" some of Joyce's more conservative fans. The great man would surely approve.