God Is In The CD
A review of the Underground compilation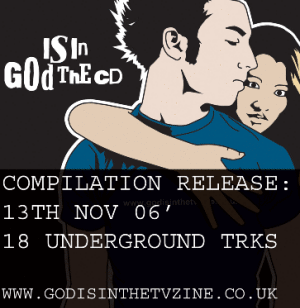 Review Snapshot:
This compilation, which is in aid of Macmillan Cancer Support, brings us a collection of 18 songs from the British underground music scene, with a mix of the good, the bad and the ugly.

The Cluas Verdict: 7 out of 10.

Full Review:
This compilation album is brought to us courtesy of God Is In The TV, a UK based indie cultural webzine. This webzine was, according to the press release, one of the first to review an Artic Monkeys demo and to interview The Long Blondes. They have also been long-standing champions of those other favourites of mine, Luxembourg. Convinced of their talent-spotting abilities, I eagerly awaited this release.

The album opens with Penny Broadhurst's 'Rhythm Rebel' Her over-the-top angst-ridden rant in spoken word form goes a long way to dampening my enthusiasm for this record. However, when Gifthorse kicks off with 'A Night In The Arms Of A Stranger' hope is restored. Musically it's a fine track, but I would wish the lead singer, Brian Bryden, would stop aping Morrissey. Sadly for them The Boyfriends currently have that market cornered. If Bryden could find his own voice then Gifthorse may just be a name we'll hear more of in the future.

They are not the only ones to impress either. In fact, this compilation has more than its fair share of underground talent. Nakeru's 'Long Walks On The Beach', while perhaps being a tad too long at 7 minutes long, is a fine example of atmospheric rock with a charming lyric about personal ads. Korova and Donde Stars both contribute two fine tracks. On the basis of their contributions both look to have bright futures ahead of them and are a cut above a lot of the indie/art rock dirge that has been churned out in the aftermath of The Strokes' 'Is This It'. However the true find on this album is most definitely Villette. I cannot remember being so hooked on an indie rock song like this since I first heard 'I Bet That You Look Good On The Dance Floor'.

The record also has its poor moments, and a number of tracks are disappointingly mediocre. Akira's 'Atom' meanders and 'Disco Bitch' by The Swear just irritates. Weak vocals hamper a number of tracks. The International Karate Plus has a good song in 'Slow Gear', but sadly the vocal does not match up. The Psychotic Reaction is also guilty of this.

For ٣ this album is well worth buying. Sure, it has its poor moments, but they are countered by more numerous decent ones, with the occasional flash of excellence. Some tracks are forgettable, some you wish you could forget, but there are a number that warrant recognition and success.

More info on the CD and how to purchase it.