The Eels
Review of their album 'Shootenanny'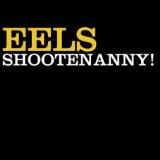 Briefly it seemed as if the Eels had lost their way. The failed experimentation of 2001's 'Souljacker' left a vast chunk of the band's dedicated following slightly disillusioned with their anti-heroes. Whilst that album can in no way be classified as bad, for the most part it lacked the quirky melodies and offbeat arrangements that the band has become synonymous with ('Woman Sleeping', 'Man Driving' and 'Fresh Feeling' being notable exceptions).
'Shootenanny' comes off like the record E was previously aiming for. Skipping effortlessly from 'Beautiful Freak' era spikey pop-rock to morose 'Electro Shock Blues' style laments via sweet-as-pie Daisies-esque jaunts, 'Shootenanny' showcases the Eels genre-hopping tendencies in all their eclectic glory.
Opening track 'All In A Days Work' sounds like it could have been a stand out track off 'Souljacker' while 'Love Of The Loveless' is pure Daisies genius. Once again collaborating with Kool G.Murder, this time to much greater effect, E's songwriting contains a tone that is more contented than before without ever losing any of his lovable loser persona. 'Restraining Order Blues', 'Lone Wolf' and 'Dirty Girl' show E stating his alienation more blatantly than before but with a new spin, as if the frontman has now become comfortable in his role and is maybe starting to enjoy it.

There is precious little not to like about 'Shootenanny'. Far more immediate and infectious than its predecessor, it acts as the meeting point of all the Eels various styles while maintaining a continuity and character all of its own. Only time will tell if 'Shootenanny' will have the longevity of 'Daisies Of The Galaxy', 'Electro Shock Blues' or 'Beautiful Freak'. But for now take it as what it is: classic Eels.
Mark Grassick

Check out the CLUAS reviews of the 'Souljacker' and the 'Daisies of the Galaxy' albums.


Check out a review of the Eels live in London in 2000.


To buy a copy of this album on Amazon just click here