The Eels
A review of the album 'Souljacker'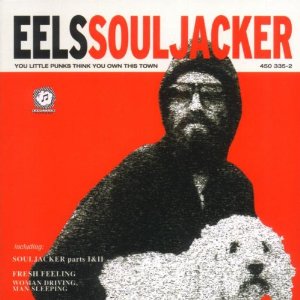 Loose, overblown, extravagant, unnecessary.... but enough about Mr E's new beard!

Mr E's band, the Eels, have always been pretty miserable. Their debut 'Beautiful Freak' won them a Brit Award for Best Newcomer and was a fuzzy but tunefully downbeat affair with a lovely title track and two cracking hit singles, "Novocaine for the Soul" and "Susan's House". Its follow-up 'Electro-Shock Blues' wallowed in tales of cancer, death and misery unparalleled since The Joy Division or Lou Reed's practically unlistenable 'Berlin'. It had good tunes too though. But last year's jaunty hit single "Mr E's Beautiful Day" and the subsequent album, 'Daisies In The Galaxy', heralded a new, happier and chirpier Mr E, didn't it?
No it didn't. Even though Daisies' feel was upbeat, acoustic and shimmery, maybe the song titles should have given us a clue. The album's standout track, "It's A Motherfucker", had a luminous melody but the lyrics suggested that E's happiness may be transitory.
'Souljacker' is the result, named after an American serial killer who tried to claim the souls of his victims. Its opening track, "Dog Faced Boy", is a loud, guitar-driven slab of fractured blues about how life aint so good for a dog-faced boy. God knows what it means. But it obviously hurts. From there it is obvious that the acoustic, brass and string confection of Daisies In The Galaxy is long long gone. In its place come loud snare drums, tortured bass, break beats and stinging power chords. True, there are still some lovely moments. "Friendly Ghost" could fit snugly into Daisies but this album, on the whole, is more disturbing and challenging than before.
Whether this makes for better music is debatable. Mr E has never taken the easy route, and he is undoubtedly a talented, if slightly geeky, songwriter. But some of the more industrial tracks on the album, like "Jungle Telegraph", do not have a compelling melody. The music unquestionably has drama and power and wonderfully quirky lyrics like "Mum won't shave me / Jesus can't save me" make this a potent mix. Still, I don't consider this to be E at his best. Would still buy it though.
Stephen McNulty