The Eels
A review of the album 'Daisies of the Galaxy'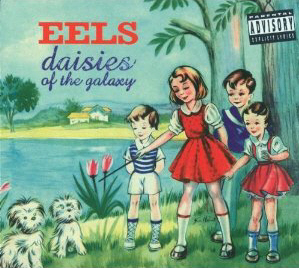 If anybody had drawn conclusions from the last Eels' album 'Electro Shock Blues' about suffering being an inspiration to great art then, be prepared, because Mark E Everest has brought a twist to that way of thinking with 'Daisies of the Galaxy', the third Eels album. It is more great musical art but this time it sounds - wait for it - almost optimistic. 'Daisies of the galaxy' not only blows up the anger of 'Beautiful Freak' and the loneliness of 'Electro Shock Blues' to widescreen level but it also brings to the arena a sense of 'f**k-this, I'm-going-to-live'.
And live he does. Indeed as a lyricist E is not concerned with teenage angst as many lyricist in their 20s are. Or with puppy love for that matter. Instead he offers us a cross section of life to the modern man and almost in the same sense as the poet Philip Larkin - depression, loneliness, consumerism and sheer joy at life. Oh, another thing eels can be credited with (maybe Beck also) is the resurrection of the meaningless ditty 'I like birds'. It shows us how much nonsense can actually rock (well ok maybe every punk rock band of the last fifteen years have shown us too (but unintentionally)).
Musically it is really a collage of conventional and eclectic sounds. I can't honestly suggest one direct influence except real world entities such as the funeral band on "grace kelly blues" or the fairground music on "daisy through concrete". The only thing that I can call it is 'semi-acoustic weirdness'. The melodies are rarely well defined and there's always some noise there to set you thinking 'what the f**k was that?'.
Special mention has to go to the grand finale, the child hood memoir of "Selective memory". In a weaker moment it would move me to tears. Then the sheer 'feck-that-for-a game-of-soldiers-I'm-going-to-live' of "mr e's beautiful blues" ending the album with a chorus of "Damn right it's a beautiful day uh huh".
The only valid accusation that can be made against this album is that some of the vocal tones fail to break free from 'Electro shock blues' but that is a matter of opinion.
Lonely, angry, satirical, happy and optimistic - there is not a weak track on 'Daisies of the Galaxy'. Barring Radiohead emerging from the studio victoriously or some newcomer emerging from the hills, this will be my album of 2000 proving that there is some life left in semi-guitar music . Buy.
Kevin Fitton