Dusty Trails
A review of their album 'Dusty Trails'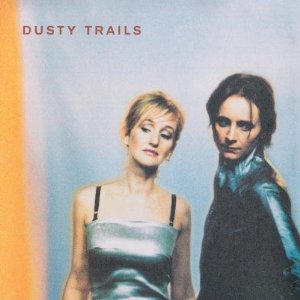 While reviewing a soundtrack for the new movie called 'Happy Accidents' I found out about this duo. Mesmerized when I heard three songs on the soundtrack by a band called 'Dusty Trails', I couldn't believe it when I learnt that this band already had a full-length album out for over a year. And, better late than never, here's a review of Dusty Trails self-titled debut album.
Dusty Trails is ex-Luscious Jackson keyboardist Vivian Trimble, and ex-Breeders bassist Josephine Wiggs. Both worked previously together on the album 'Klassics with a K' which was recorded by the Luscious Jackson side project: The Kostars. Since their work on that album, both Vivian and Josephine had an itch to record the music they've always wanted to play and, voila, started the band, Dusty Trails in 1998.
Starting with 'Pearls on a String', the album is angelic, soft and airy. Most of the songs follow the same recipe: soft and lush, lounge-pop. The only time they break the pattern is with the track 'Roll the Dice' which tends to go to the area of soul and sexiness of a Luscious Jackson single.
The wonderful Emmylou Harris, does a guest appearance towards the end of the album on the track entitled 'Order Coffee'. With Josephine and Vivian doing background vocals it becomes a wonderful mix.
Dusty Trails is just plain beautiful music. I'm glad I finally found out about them. Perhaps when the next album comes out - and they're working on it now - I can introduce another great endeavor.
Connie Hartmann