This article was first published
on CLUAS in December 2006
French Letter: Best French Music of 2006
Aidan on France's most prestigious contemporary music honour...
Aidan Curran, a CLUAS writer since 2004, is now based in Paris from where he files the 'French Letter' column

In China (and our Beijing Beat colleague might check this for us) apparently they curse you with "may you live in interesting times". Here in France in 2006, times are very interesting - and you wouldn't miss it for the world. The country has been shaken by protests, adrenalised and then traumatised by the World Cup, smitten by Ole, Ole... and the soundtrack has been fantastic.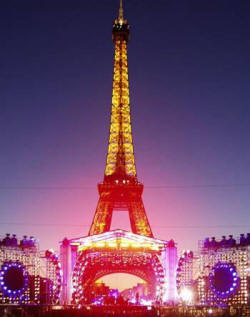 Back in March there were the (quintessentially French) street protests - universities were shut down, riot police were on every corner and genuine social upheaval seemed imminent or at least possible. It all eventually passed like a summer shower. The anthem of those turbulent days was "La Boulette" by a tomboyish rapper called Diam's, whose real legacy may not be social change but popularising the chav tracksuit in France.

The unlikely adventure of the French football team (at Ireland's expense) ended in ignominious defeat for Zinedine Zidane and his équipe, but Zizou may take consolation from having inspired two of the biggest chart/ringtone hits of the summer. Before the tournament, radios and cellphones both rang to the Carribean yay'sound of "Zidane, il va marquer" ("Zidane's gonna score"). After France's idol was outwitted by that Napoleon of crime Marco Materazzi (deviously using the old "Your ma!" trick the rest of us stopped falling for at age ten), the tune was reworked as "Zidane, il l'a frappe" ("Zidane hit him"). So France won after all, you see.

Steering away from music-as-sociology for a minute, there has been loads of brilliant French music this year. However, very few French people know about it. That is to say, alternative music is still a minority interest here, which means that your correspondent spends much of his time annoying his friends with "What? You haven't heard of Phoenix/Vanessa and the O's/Emily Loizeau..." and so on. So, as much for them as for you, here's the French Letter 2006 Playlist - our ten recommended tunes of deux mille six for you to check out via internet, most in English but all brilliant and all très French:



1. Vanessa and the O's: 'Bagatelle' (from the album 'La Ballade d'O')

Dreamy Velvet Underground-style guitar pop from a Nico-esque French chanteuse who teamed up with none other than James Iha of the Smashing Pumpkins. Warning: the ridiculously catchy chorus of 'Bagatelle' is the best kind of earworm - you'll be singing it for years to come. More info here.

2. Cassius: 'Toop Toop' (from the album '15 Again')

For their tardy follow-up to '1999' the erstwhile house duo went all R n' B-lite (even roping in Pharrell Williams for a guest spot) but the slashing guitars of this electrifying single sound like the Arctic Monkeys. Really! More info here.

3. Emily Loizeau: 'Je Suis Jalouse' (from the album 'L'Autre Bout Du Monde')

A playfully cynical ode to jealousy by this Anglo-French piano-playing singer, from a truly marvellous debut album of fearlessly simple, unashamedly melodic cabaret pop that Regina Spektor fans will appreciate. More info here.

4. Emilie Simon: 'Fleur De Saison' (from the album 'Végétal ')

The 'French Bjork' she's called by some, but this arse-kicking rock-out gives that the lie. In fact, it's the first great French-language rock song your correspondent has ever heard. Strangely enough, it comes from a lovely electro-pop concept album about that old songwriting theme, plant life. More info here.

5. Plastiscine: 'Twist Around The Fire' (from the compilation 'Paris Calling')

Four photogenic French girls with a neat line in jangly US college pop, the pick of the self-styled 'Paris Calling' wave of new young English-singing guitar bands.
More info here.

6. Superbus: 'Butterfly' (from the album 'Wow')

Brilliant Blondie-esque disco-pop from an otherwise No Doubt-sounding band. Lead singer Jennifer Ayache even sounds like Gwen Stefani, and she's just as glamorous and sassy - a bona fide pop star waiting for the wider world to find her. More info here.

7. Phoenix: 'Long Distance Call' (from the album 'It's Never Been Like That')

Okay, so they're probably not going to become world-famous, but their charmingly odd mix of melodic MOR and too-cool-for-school new wave is a perfect companion to the Peter Bjorn and John album. Go on, make 'em famous!
www.myspace.com/wearephoenix

8. Charlotte Gainsbourg: 'The Songs That We Sing' (from the album '5:55')

2006 was definitely Charlotte's year; only Madame Royal and Monsieur Zidane featured on more Paris posters and French magazine covers than Serge's girl. Outsourcing her album to Air and Jarvis (now a Paris resident too) was a masterstroke - the result, atmospheric nocturnal pop, sounds exactly how a Paris record should.
More info here.

9. One-Two: 'Pretty-Pretty' (from the album 'Love Again')
Eccentric electro-pop duos are something of a Parisian speciality. These two guys and their catchy club-friendly tunes will comfortably see you through the wait for new material from Daft Punk and Air. Speaking of whom...
www.myspace.com/powerpopuptothetop

10. Darkel: (from the album 'Darkel')

...it was a busy 2006 of side-projects for the Air-heads. Jean-Benoit Dunckel's likeable Kraftwerk-leaning solo album wasn't as dark as his nom de rock suggests - breathy romanticism set to bleeps and swooshes. Business as usual for Air, then, ahead of their new record in March 2007.
www.myspace.com/misterdarkel

Contact this column by email via frenchletter(at)cluas(dot)com