Witnness Festival 2003
Saturday, July 12th, 2003 (Day 1)
Day one dawned bright and beautiful. A glorious 12th indeed with the sun turned up to full volume and n'er a cloud in the sky.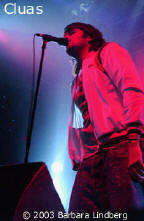 Lobster red seem to be the colour of the day, so to cool my baking body, I paid my first visit of the day to the Witnness Rising Stage. Under canvas and over from Scotland, it's Mull Historical Society. Colin Mac Intyre is M.H.S. He writes all the tunes, plays half the instruments, produces, even designs the artwork. If he's the hardest working man in Scottish show business, he also knows how to work the crowd. He jumped about the stage like a kid on Christmas day, winning most of the punters over with his enthusiasm and charm. We were soon singing along to some of his hit singles ' I Tried', 'Animal Canibus' and the rather wonderful 'Watching Xanadu'.
After Mull, it was off to see Death In Vegas in the Witnness Dance Stage. 3 years ago in Leopardstown, D.I.V were the highlight of Witnness. On the strength of their 'Concertino Sessions' album, they delivered an awesome set blending rock and dance to brilliant effect. This time, the boys were playing D.J. No band, no live music. Just 60 minutes of techno in a sauna. Nice sound system lads and good graphics, but next time, keep it real.
Never mind, back into the outdoor sauna for a quick blast of the Sugababes on the main stage. Their 15 minutes might be almost up, but who cares. 'Round Round' is an irresistible pop record.
At 7 pm, it was still hotter than July and about to send the temperature into the stratosphere were those beach loving boys from Blackrock, The Thrills. With the possible exception of Saddam Hussein and U.N Weapon Inspectors, nobody has received more press this year than this band. So it was a mixture of curiosity as much as anything else that brought so many to The Thrills tent.
It was obvious from the opening chords these boys have an awful going for them. Their sound is infectious with superb arrangements and great melodies. In Conor Deasy, they have a lead singer with a great pop voice and plenty of stage presence. The audience loved every second of their sun-drenched sound with everybody joining in the singing and dancing for 'Santa Cruz', 'Big Sur' and the fabulous 'One Horse Town'. For atmosphere alone it was a wonderful 40 minutes, the best vibe I've experienced at a gig for a long time. The Thrills - if you don't know it already - are going to be huge.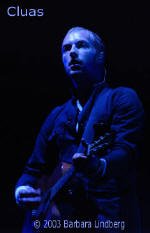 Pass the funfair and the foodstalls and up next onto the Dance Stage were Lemon Jelly. A dance act that defy description, the Jelly's have released just two CDs with last year's 'Lost Horizons' popping up in many people's album of the year poll. On stage, this English duo were out to enjoy themselves swapping instruments after every song and playing new interpretations on their existing material. They threw some cool samples into the mix including a hilarious rendition of Chicago's 'If you leave me now'. They finished the set with 'Good Weather for Ducks' with the bouncer in front of me leading the crowd into the chorus. Great fun and a great band.
Playing to a full house and a full moon, Coldplay took control of the Main Stage at 10.50 pm. Opening with 'Politik' the crowd was theirs from the opening bars and they never lost them for the next hour and a half. They rattled off four songs before Chris Martin spoke, introducing 'Trouble' as "the best written ballad in the world." A joke of course, but not far out, mind you. Before long, Coldplay had raced through most of their million selling second album and Mr Martin was coyly suggesting to the crowd that "if you want us to come back we will, if you don't, we won't."
They came back of course to an ecstatic reception and an excellent version of 'Yellow'. Then once more they returned with a great version of Echo and The Bunnymen's 'Lips like Sugar'. What struck me most about Coldplay was how much Chris Martin dominates them. Unlike other bands, your eyes are constantly on him as he darts around the stage moving from piano to guitar to microphone stand. In essence he is Coldpay. The vast crowd loved them of course, singing along to every word and clapping through every song. It was all over too soon, which is the sign of a good gig. How big Coldplay had become was soon evident when I dropped in to the midnight set of Royscopp and they did a version of 'Clocks'.
And with that improbable cover, it was time to catch the late, late bus back to Baile Atha Cliath.
Brian Kelly

Check out the CLUAS coverage of Day 2 of Witnness 2003


All photos - 2003 Barbara Lindberg


Speaking of photos, be sure to check out CLUAS.com's exclusive (and quite excellent!)Witnness 2003 photo Gallery