The Witnness Festival
Fairyhouse, Co. Meath, 5 & 6th Aug 2000
Ronan reviews the performances of the festival in depth below. Clickhere for Niamh's shorter review of Witnness.
---
Day 1
Ireland's first real festival (let's not count Slane this year eh?) in an age has to be toasted as a success in (nearly) all the right places. All it was really missing was a monumental headliner. For my moneyDavid Gray and Travis just weren't strong
enough to headline such a festival. Sure, they've both shifted tonnes of records in Ireland in the past, oh what is it? A year? But sadly both are as weak as a one-teabag pot of tea. Anyway, more of them later. What Witnness was all about was that thing that the Irish have been without for so long - that more-than-a-day-festival vibe. A chance to check out bands you wouldn't fork a pound over to see on a wet Wednesday in Whelan's, a chance to see all your favourites losing the plot in daylight on either a big stage in a field or a tent. For the youngsters, numerous chances to get pissed in a field, get pissed in a big tent, get pissed on the campsite and to, er, "experiment" etc? All in all, a chance to live the life of a posh tramp for a couple of days.
Anyway, on arrival the first thing that struck this reporter was how well organised the damn thing was. Bars within easy reach for those much-needed minerals, stages within walking distance of each other, a cool vibe all round and a line up to cause palpitations. What was mystifying was the amount of Irish acts on the bill. In one way you can compliment it as a bold stance, a chance to glow in the current healthy climate of Irish music. On the other hand you can say that it lacks imagination, flair, money or common sense. Whatever you feel, of the 72 acts on offer, a whopping 42 were from the four provinces.
Sadly an alleged shortcut through the misty fields of Meath (nearly saw that Maze in the Maize) meant that arrival was slightly delayed and unfortunately the excellent Bell X 1, The Marbles and the evergreen Johnny Moy were missed. Reports from around the site indicated that Bell X 1 were one of the early highlights. Still, they're in Mullingar soon for a brace of gigs so we'll catch 'em again. Badly Drawn Boy was in eclectic style at the Witnness 'More' tent. A sizeable crowd probably all agreed in unison that this wasn't the place to see this wonderful (on record) group. Boredom set in and The Undertones were just the tonic. Playing at a ridiculous hour of the day (5.45? I mean, come on?) they absolutely excelled. Even 'Mars Bar' was given an airing. In the absence of Fergal Sharkey (after that claptrap that he released in the 80s he couldn't possibly return to his roots) new singer and old mate of the band Paul McLoon was superb. Less whiney than Sharkey and more than suited to the Undertones seminal set list of classics. McLoon added fresh life to 'My Perfect Cousin', 'Jimmy Jimmy' et al. A triumph for the oul lads, even though they had to suffer the insult of playing under Ocean Colour Scene and their cod rock boredom. Back to the tents...
Some bands have a habit of losing it in the bigger tents; the same couldn't be said of Doves though. They'd suit anywhere. 'Lost Souls' is one of the finest records of the year thus far and the majority of it was aired today. Live, Doves were absolutely superb. Their atmospheric and brooding set was a treat from start to finish. The song 'Lost Souls' itself was a trippy Pink Floyd blast of intent. 'Catch The Sun' was another blast, it's rippling New Order-esque bass solo getting the Witnness 'More' crowd buckleaping in fine style. An early triumph of the day.
Paddy Casey was up next and even though he's still on an 'Amen (So Be It)' trip, his set was a timeless joy. 'Amen (So Be It)' has slipped into the subconscious in the
most perfect way and each of the songs from it aired tonight were greeted like old friends. The big stage didn't phase Casey at all; he seemed perfectly at home in front of a capacity crowd hanging on every word, every chord, and every flash of songwriting at its very best. Meanwhile,Death In Vegas were on at the Witnness Dance tent and the first visit of the weekend to it was no disappointment. They f**king rocked! A divine set from the Contino men was a mile away from the lazy shows they've been "treating" us to of late. A two-minute drone introduced us to one of the best gigs in recent memory, totally eclipsing the two times I'd seen them already in the past year or so. Aisha was given the instrumental treatment, even without Iggy it was a prime fillet of rock and one of the weekend's biggest moshpits soon consumed the dancers. A triumph. After the breathtaking display of Death in Vegas, the tail-end of Hothouse Flowers' appearance in the Witnness 'Rising' tent was the perfect antidote to soothe those aching ears. Having witnessed their Saturday night victory at Glastonbury I was certainly keen for more at Witnness but it's a shame Death in Vegas left only 3 Flowers songs to bathe in. But even so, they were heartedly impressive even if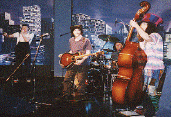 they're still relying on songs from 'People' to tide them over.Watercress were unfortunately caught for only a brief while as there was something historic brewing over at the Witnness 'More' tent. But what was sampled was a blast. Without a shadow of a doubt, Watercress are one of the finest live bands in Ireland today and the all too brief glimpse of such creative genius wasn't enough. They've popped off to Europe for a holiday; they'll be back at Christmas. If you see them playing anywhere near you then do not, I repeat, do not miss them. You could certainly have done with missing the Happy Mondays. They (sorry, Shaun Ryder and a host of session men) were a shambles. At Glastonbury they were so bad they were good, at Witnness they were so bad they were gruesome.
All day, backstage rumours were rife about the Happy Mondays and what was supposed to have happened on the way over to Ireland on the ferry. Rowetta was (allegedly) punched out by an irate, drunken Ryder and promptly flown back to the UK. Bez left with her. Ryder was the spotted backstage wearing only a pair of tights and swinging out of bottles of JD and bags of Coke. To say he doesn't live the rock 'n roll life is an understatement but at Witnness it was a pathetic glimpse at former genius. Even the crowd was warned beforehand that a fight might break out on stage. Oh dear.
Now with virtually no members from the original Mondays left, the band were as tight as you'd expect from highly paid session men but Ryder was a mess. Gurgling and babbling away he strained to read yet alone sing the very same, wondrous lyrics that he himself wrote only a few years ago. In the absence of Bez we got some chancer in a plastic facemask wielding a plastic axe that couldn't dance. Offstage a backing singer tried to inject something into the mess but it was too late. What we witnessed here was the Death of the Mondays. At one point it looked like Roni Size was up there. I couldn't tell, I couldn't care being utterly deluded by the shambles that was on offer. I had to, for the first time in my life, turn my back on the Mondays. They are one of the finest bands ever to put music to tape, but that was a long time ago. As Ryder himself announced at the end "This was our last fooking show". I hope it is, I'd prefer to remember the Mondays with some respect, not the bad vibe that this mess created. New single 'Sympathy For The Devil' probably won't do them any favours either. Tonight it was awash with backing tracks, even the journeymen band didn't seem to bother with it. The gang's all gone, strippers and greed have replaced them, it's probably only a matter of time as to how long Ryder will last. Place your bets today folks, on the evidence of this performance I'd wager that it won't be long?
Sack were up next and from the one song I saw they were definitely the loudest band at Witnness. On the main stage, the Guinness Book of Records approved "loudest band in the world" were limbering up but not having two heads (although at this late stage that was possible) one had to be picked and it was Leftfield that won over Sack. Awesome is all I can say. Absolutely awesome. From 'Release The Pressure' through 'Song of Life' to 'Chant Of a Poor Man', their set wasn't as loud as you'd of hoped from "the loudest band in the world" but it was ample enough ear candy and we all returned to our tents for a good clean night of tea, sandwiches and crisps. But a car park diversion put an end to that.
Day 2
Sunday morning and Turn are not the most obvious hangover cure but they rocked any shakes away with random precision. Now slimmed down to a three piece, the Kells band were late and welcome additions to the bill and they got The Witnness 'More' tent off to a flyer with their edgy, catchy and euphoric rock. They're certainly missing the dash of sweetness that the departed Fiona added with her poppy keyboards and OTT backing vocals so hopefully their rise won't take an, erm, turn for the worse. Frontman Ollie Cole has a natural stage presence and a charm that makes the band that little bit special. First thing in the morning it's a bit too much to stomach at times but with tunes as good as forthcoming single 'Too Much Make Up', the ecstatically lapped up 'Beretta' and a wonderful 'Facedown'. Turn are a band with a lot to offer.
The same can't be said of Blew though. Their dreadfully whiney indie schmindie claptrap has about as much to offer as a night out with a corpse. They embarrassed themselves on the Main Stage with effortless grace and hopefully they'll take this as a valuable lesson and retire. Ditto the annoying Toploader. For a band that has touted as the next big thing, they are a remarkably average prospect. More a case of the hair maketh the band sadly.
Hally too has been touted for next big thing status. Being ripped apart by Hot Press may well have helped his cause. As a performer, Hally is electric. A natural star, he's got the moves, the big headedness and a crafty band. Shane Atlas on drums is probably one of the finest in the business and without him Hally would be missing that sparkle that, even on the weaker songs, is evident in spades. Opening with "Happy" was a brave move. A bit twee and a bit Cure-ish the song either wants to make you slap him or listen to him. The majority chose the latter and a fine set ensued. One piece of piss that wrecked the flow was a dreadfully misguided song called 'Peace', which reminded this reviewer of 80sheavy metal ballads. If Hally lose this tendency to create the "epic" sound of cock rock then they could go all the way.
Back to the Witnness More stage and Wilt were in full swing. All that needs to be said was that Wilt rock. Their excellent debut album 'Bastinado' got a healthy airing and Witnness More was turned into one almighty mosh pit (not for the only time on Sunday). Stand out album cuts 'Radio Disco' and 'Open Arms' were excellent and the promise shown by Kerbdog has materialised into something special with Wilt.

I didn't see All Saints but I'm sure they sang like angels.David Kitt excelled in the Witnness Rising tent. His acoustic grace is winning him plaudits all over the shop and it was easy to see why. He had the audience eating from his hands and with the release of his debut album in a matter of a few weeks he'll soon have the country eating out of hands.
Paul Weller was up next on the Main Stage. Despite cries of "who's he" beside me from some teenage girls he proceeded to beat several shades of sh*t from his guitar and in a matter of two or three songs he had the sizeable Sunday crowd at his every mercy. Opening with 'Friday Street' he moved quickly into a ferocious 'Out Of The Sinking' (The Sky Sports theme as it's known to most of us) before treating us to a strutting 'Peacock Suit'. 'He's The Keeper' was a tad weak but 'Back In The Fire' was a bass heavy and superbly funky jam with Weller and band (including special guest Steve Craddock from O.C.S) locking horns in fine style. 'Heavy Soul' was given a welcome run out before 'Frightened' and a warm 'You Do Something To Me' brought things to a slightly subdued middle. But the lyrics of 'You Do?' fitted perfectly with the festival vibe. Mixed up emotions, dancing through fires and waiting for that change. Weller's grasp of love gained, lost and nearly won is as true on a blistering hot Sunday in a field as you'll ever hope to get. Closing with a 5 song whammy that included 'Changing Man', 'Walk On Guilded Splinters', a blistering 'There's No Drinking After You're Dead', a classy run through of 'Pepples On The Beach' and the ragged glory of 'Woodcutter's Son', Weller was one of the highlights of the weekend. He may well have been one of the oldest men on stage but he showed the younger whippersnappers an object art in live performance. In a class: World Class.
To follow it up Beck needed to be special and f*ck knows if he was. The Frames were on in the Witnness Rising tent and Kila were taking the Witnness More tent into orbit. Needless to say these two, alongside Watercress, are some of the best performers in Ireland today and on Sunday they proved it again and again.
Therapy? were an interesting prospect. Their latest albumSuicide Pact, You First is a return to the form that made them the quintessential festival band a good few years back. Coming on stage and announcing "We shall make some f*cking noise tonight.

Rock and f*cking Roll!" was probably the most peaceful moment during their triumphant set. A mixture of every rock and metal clich?going they proceeded to inflict the heaviest and best set of the entire festival. 'Isolation' was cut short to assist a stage invader who was about to be beat to a pulp by the security men - the whole band joined in and rescued the invader. On resumption of their set it seemed the scuffle did the band good as they got even heavier. Andy Cairns is the ultimate Metal showman, beside him Michael McKeegan comes across as Smithers to Cairns' Mr Burns but he still plays a mean bass. A dedication to the late Joey Dunlop got one of the biggest cheers of the weekend and from then on Therapy were world champions again. Cairns is the bastard cross between Rory Gallagher, all of AC/DC, Tony Iommi and your uncle but he's also one of the best showmen around and when the band finish in a sea of noise and metal poses you miss them almost at once.
To follow this was a task that only Asian Dub Foundation could have pulled off and they did in fine style. Over on the Main stage Travis were doing their weary best to get it raining. It didn't but it should have. To put it bluntly, they were boring. Their version of 'Baby One More Time' just isn't funny anymore and the only "highlight" of their drab and dreary set was a poor rendition of 'The Weight'. They were the sleeper band of 1999, at Witnness they were the put you sleep band. A bad choice of headliners but not everything can be perfect.
All in all, Witnness was a triumph. A well-organised machine of a festival, it was a decent two days out but a sparkle was missing somewhere. It didn't have that early anarchy that the Feiles in Thurles had, or that multitude of international classiness that festivals like Glastonbury have but for a first attempt it wasn't bad. Better luck with the headliners next year.

Ronan Casey