David Gray's Set List- a setlist
'Schubas', Chicago, March 27 2000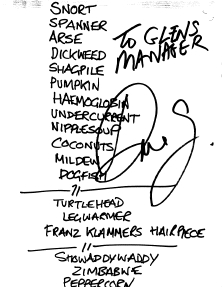 The streetlights that illuminated the delicate veil of mist enveloping Schuba's tavern on the evening of March 27, created an ethereal glow. Inside, over 200 David Gray fans anxiously awaited the opening of the doors to the room where the magic would take place. The atmosphere inside Schuba's mirrored the heavenly aura outside, the only tension felt was from watching the strained faces of those trying to sequester tickets to the sold out show.
The doors opened, the lights dimmed and the room was brought to life with beautiful measures. The set covered all of Gray's albums highlighting 'White Ladder' and every song played contributed to the crescendo of energy demonstrated by both band members and the crowd. A surprisingly on-key audience roared the words of each song to deafening levels and several times Gray halted his own singing and listened to them with a smile.
The "pseudo" set list had ridiculous code names for every song played. At one point the band had played a short riff between songs and a chuckling Gray commented, "So, THAT's the song 'HAIRPIECE'?!"
Schuba's does not have a backstage room so Clune hid behind his drums as the others sat low on their haunches to "disappear" from the watching eyes of the crowd. The boys snickered from their secret hiding places as the audience clapped, sang, stomped and whistled them back into view. A truly mesmerizing performance by these fine musicians. Until they return, Chicago waits...
Leah Jarski